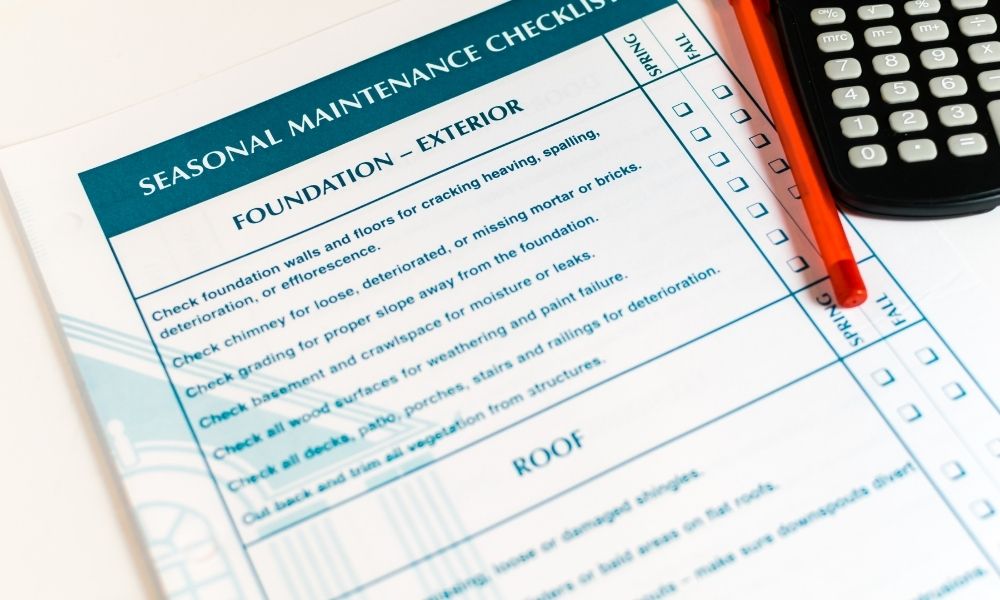 Spring cleaning, summer projects, and fall maintenance can seem overwhelming when you don't have a plan. And what does winter home maintenance involve? Follow this home maintenance checklist to keep your house looking great.
Spring
The maintenance you do on your home in the spring is mostly to prepare for summer. While cleaning, you may notice some leftover debris from fall and winter, but your main goal is to prepare your home for the harsh summer ahead.
Clean your gutters: You should inspect your gutters throughout the year to clear up any clogs before they become a problem. The most important time of year to clear them is right before storm season, when heavy rains could overflow them.
Clean windows: It's a misconception to assume that rain will clean your windows. You may need to hire a service to remove winter grime from your windows and get them to sparkle like new.
Inspect your HVAC: As summer approaches, so do warmer temperatures. You don't want to find out that your air conditioning doesn't work on the hottest day of the year. Have a professional inspect your machine in the spring.
Summer
Summer maintenance is about making your home look its best. You want to feel good in the summer, and your home can help you do that.
Wash your deck: Freshen up your backyard by power washing your porch or deck. Consider repairing loose or splintered boards and applying a new coat of stain.
Spray for pests: Spraying around your property may do the job for minor pests problems like ants. Larger pest problems may require professional exterminators.
Sweep the garage: Summer is a good time for projects that may take more time. You don't have to do all your "spring cleaning" in the spring. Sweep out your garage on a nice summer day.
Fall
As you inspect your home in the fall, your primary goal will be to prepare it for winter. You want to be comfortable in your home through the harshest season.
Inspect your heating system: Make sure your heat works before it gets cold. Hire professionals to check out your heater.
Power wash your house: You should power wash your home in the fall to remove debris from siding and gutters. Sticks and leaves may clog corners after a season of storms, causing damage.
Repair siding: Fall is the best season to repair your siding. Siding repair companies often have the best deals, and you can prepare your home for winter.
Winter
Winter home maintenance is essential if you want to avoid larger issues in the future. The problems that many homeowners run into during the winter often cause water damage.
Check for leaks: You should inspect pipes to make sure they aren't leaking; otherwise, they may freeze and burst. Check out your basement for water spots that may signal a leak.
Inspect your roof for ice dams and icicles: Throughout the season, look for large icicles that may damage your roof, and remove them before they get too big. Ice dams may be a sign of poor insulation, which you can take care of in the spring.
Bookmark this home maintenance checklist to keep your house looking great so that you can reference it throughout the year. When you're looking for siding repair in Portland, OR, contact the professionals at Sister Siding.