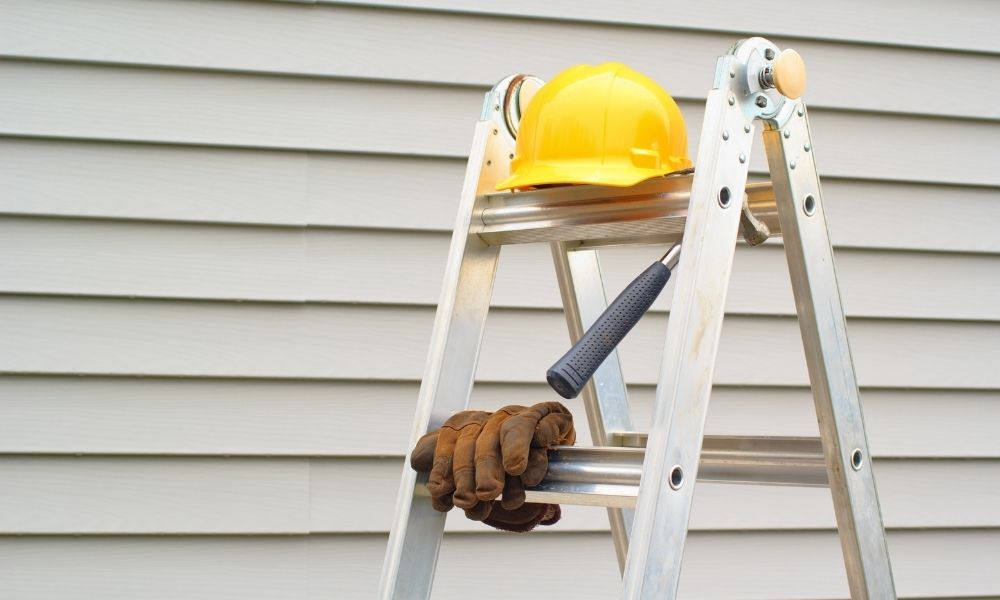 Getting ready for spring can mean many different things. You might switch out your wardrobe, plant a garden, mow the lawn, or make your favorite cookies and lemonade. However you celebrate the return of warmer weather, you may already be compiling a list of important exterior home repairs to make this spring. Whether the color of your home looks faded or you're seeing cracks in the windows, siding, and roof, get ready to start checking off tasks you need to do to get your home ready for spring.
Maintain Your Roof
In the winter, snow and ice put a great deal of pressure and weight on your roof, potentially causing damage. Ice can even puncture your roof, and water can get beneath shingles and cause dry rot. Further, pine needles and other debris can build up between roof peaks. Inspect your roof for damage with binoculars to see if you have any cracked, missing, or shifted shingles. Some shingles may need replacement, while you can refasten dislodged shingles.
Pro Tip: Water stains on your ceilings may be an indicator of problems with your roof. The cause could be the shingles or something underneath.
Clean Your Porch
You can start preparing your outdoor space for spring and summer by prepping your porch or deck. Sweep your porch to remove any leaves and other debris, and check for warped, splintered, or rotten sections that may need replacement. If your deck looks faded, you can stain and reseal it before hosing it down with your patio furniture.
Pro Tip: If you have a grill, bring it out onto your deck while you're preparing for spring. Follow preparation instructions that make sense for the type of grill you own (i.e., charcoal vs. gas).
Re-Side Your House
Winter causes snow and ice to build up under siding, which can cause dry rot. While it is best to catch this problem early to prevent having to fully re-side your house, dry rot can happen fast. Weather can easily damage vinyl siding, so you often need to replace it after heavy storms. Consider updating your home's siding to HardiePlank, made from fiber cement. It could be one of the most important exterior home repairs you make this spring.
The durable siding on the outside of your home protects the inside of your home. Hire professionals to re-side your house before the next big summer storm hits. Signs that you need to replace your siding include:
Warping
Gaps
Cracks
Rotting
Water stains
Holes
Wash Your Windows
You can prepare your windows for spring with a good scrub. Products from the store are fine, but a solution of vinegar and rubbing alcohol works just as well. For improved insulation, caulk around the perimeter of your windows. If the weather stripping has sustained damage, you may need a window replacement.
Pro Tip: Check your screens for rips and tears, and fix them before opening your windows wide. Screen repair kits are available at any hardware store.
Unclog Your Gutters
Snow and ice weigh down gutters in the winter and can damage them. Once the warmer weather hits, clear gutters of debris and make sure that water can move smoothly through them. Clogged or damaged gutters can cause water to pour into the wrong places—like in your basement or down the side of your house. The point of a gutter system is to redirect water away from your home. You should replace gutters when they are:
Rusty
Moldy
Cracked
Bent
Floppy
Fix Your Chimney
If you have a chimney, check the masonry for cracks and potential foliage, which could be a sign of water infiltration. White calcium deposits around the chimney are also a sign of leaks that you'll need to seal. Chimneys in use clog easily with smoke and soot. Unused chimneys often fill up with nests and other natural debris. Use a protective screen or rain cap to keep critters and their homes out of yours.
Seal Wood in Your House
When you are looking for important exterior home repairs to make this spring, you won't want to forget about preventing dry rot. Look for all the places around your home and general property where wood may encounter moisture. Ensure that these places have the proper ventilation or sealing to ensure wood rot does not form. Seal and stain fences, trellises, and other outdoor wood structures at least every two years.
Pro Tip: Check for winged insects flying in and out of holes in wooden structures, as this is a sure sign of termites, which typically populate between March and June.
Paint Your House
Spring is the ideal time of year to paint your home's exterior. If you've been itching to touch up your house's hue or give it an entirely new façade, work those plans into your spring home maintenance checklist. You may already have a color in mind, but if you're not sure which shade is best for your abode, take a look around the neighborhood for inspiration.
Pro Tip: Don't forget to paint the doors, windows, and trim. Adding a fresh coat of paint to each feature of your house will make it look newer and increase its value.
Repair Cracks in Your House
Check for cracks and chips in your driveway and any sidewalks you might have. You can typically patch asphalt, but you'll often need a professional to replace cement walkways. Nothing looks cleaner than a freshly paved driveway or new sidewalk.
Clear House Vents
When spring begins, replace your air filters, and check your vents. Clearing your vents will ensure that any moisture in your home escapes. Trapped moisture causes mold and can contribute to dry rot.
Check Your AC Unit
While you're checking vents and filters, don't forget to pay a visit to your air conditioning unit. In addition to changing the filter, you'll also want to inspect the drain pans and hoses for clogs and leaks. Taking proactive steps will keep your home in good shape and your mind stress-free.
Whether you're looking for siding replacement, siding repair, roofing services, or window and door replacement, turn to the experts at Sister Siding Co. We are your premier home remodeling contractors in Portland, OR, ready to help you get your house prepped for spring. No exterior home repair project is too much to handle with our team of professionals on your side.