Roofing Services In The Portland Area
Looking for a roofing replacement or repair company that services the Portland Metro Areas of Oregon? Sister Siding does.
Residential Roofing Installation
Home roof protection is vital to shielding against the Pacific Northwest elements, so we make sure our roof repairs and replacements last through the demanding weather our homes endure in Oregon. Our roofing contractors offer an unmatched roofing installation and repair service that will save you money in the long run and protect your home for years to come.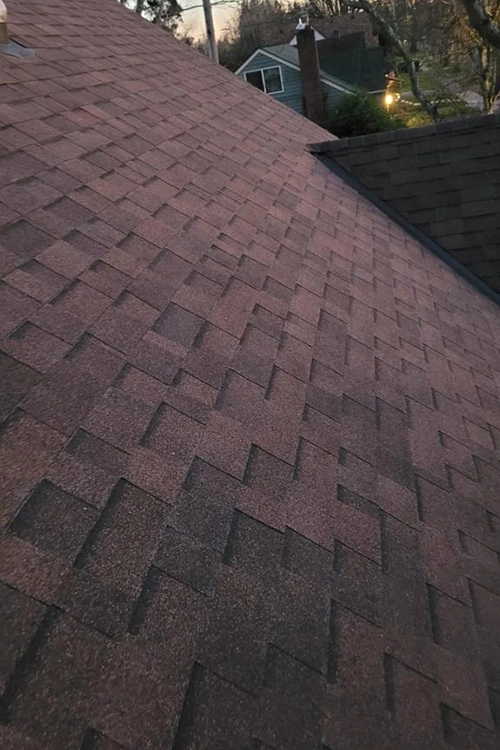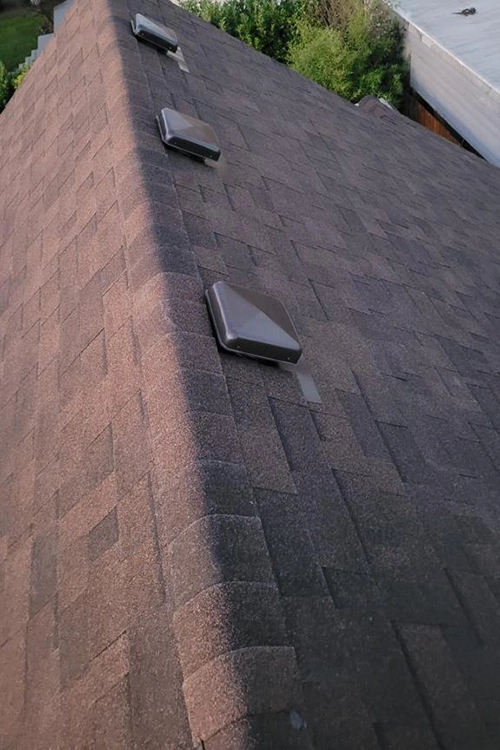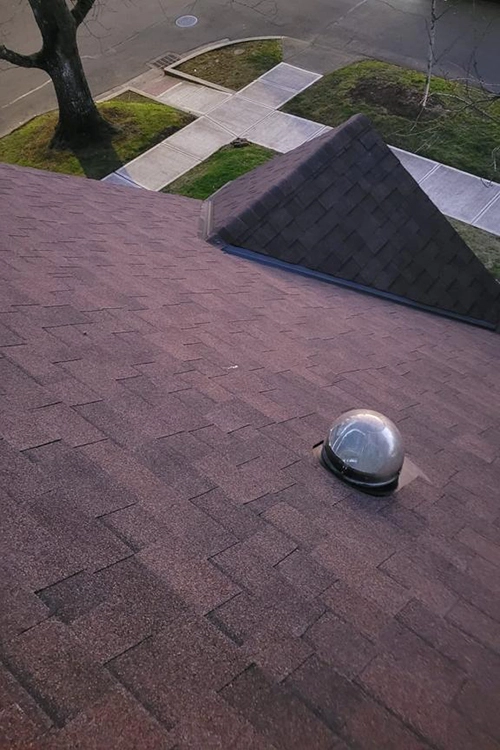 Don't hesitate to ask about our financing options for roof installation and repair!
Roofing Process
By using advanced technologies, we start by taking satellite measurements upon consultation. This allows us to get measurements within a centimeter so we can accurately and efficiently give our customers a proposal with no guesswork involved. From there, our trained professionals walk you through our options as we offer the industry's top brands of roofing materials to choose from so you feel confident in your new roof.
We'll schedule a free estimate that includes a moisture and water-run off inspection,
You'll get to meet with our project manager, Lucas.
We'll get your project scheduled.
Materials will arrive at your home.
At the time of installation or repair, our roofing professionals will tear off existing roofing
We will inspect the framing and plywood sheathing for moisture intrusion and dry-rot.
Rotted areas will be repaired as necessary.
The structure will be sealed with a moisture barrier for protection.
Flashings and vents will be installed.
New roofing shingles will be installed.
All debris gets hauled away by us, and then we do a final clean up & walk-through.

Why Sister Siding?
Sister Siding is committed to providing outstanding customer service and an unmatched roof repairs and replacements. As a family owned business, our projects are all managed by a single person from initial bid to finalized product without the runaround that could happen in a larger roofing company. Our roofing installation crews are on time and held accountable through every step of the roofing process. We value integrity over having an unhappy or unsatisfied customer and would prefer to earn a solid reputation for being a contractor that people can rely on.
Family Owned And Operated
Every project is managed and finalized by our project manager who can assist you in a smooth and stress free siding process while upholding our values for a quality roofing installation or repair.
Quality
Sister Siding only uses quality roofing materials alongside the correct roof installation equipment so you can have the best end result possible.
Licensed & Insured
Our professional roofing installers are both licensed and insured in the state of Oregon so you can trust your roofing project will be completed with convenience and ease.
Reassurance
The roofing crew at Sister Siding knows how to work alongside other contractors and subcontractors to deliver a job well done on residential projects.
We Are Warrantied
You can trust that the work will be completed right the first time with clear communication and attention to detail. However, in the unlikely event of a roofing mishap you can also trust us to make things right.
Honest Assessments
We will evaluate the damage on your project and recommend the best solution for a long-lasting remedy to your house roofing repair or replacement needs.
Reliable Team Members
We rely on our year-round, in-house crew to ensure siding project needs are met in every season for worry-free roofing repairs and installations.
Efficiency
Our siding installers are flexible with schedules and finish the roofing task at hand in a timely manner, while still ensuring you receive a superior result that protects your home from the Pacific Northwest weather elements.
Other Residential Roofing Services We Offer
Chimney Repair
Need to update the wood siding on your chimney? Sister Siding can install new wood siding panels on your chimney for a brand new look. We also offer services for Chimney Caps and Wood Chimney Repairs as well. Give us a call and tell us about your chimney project. *contact us to learn more–button*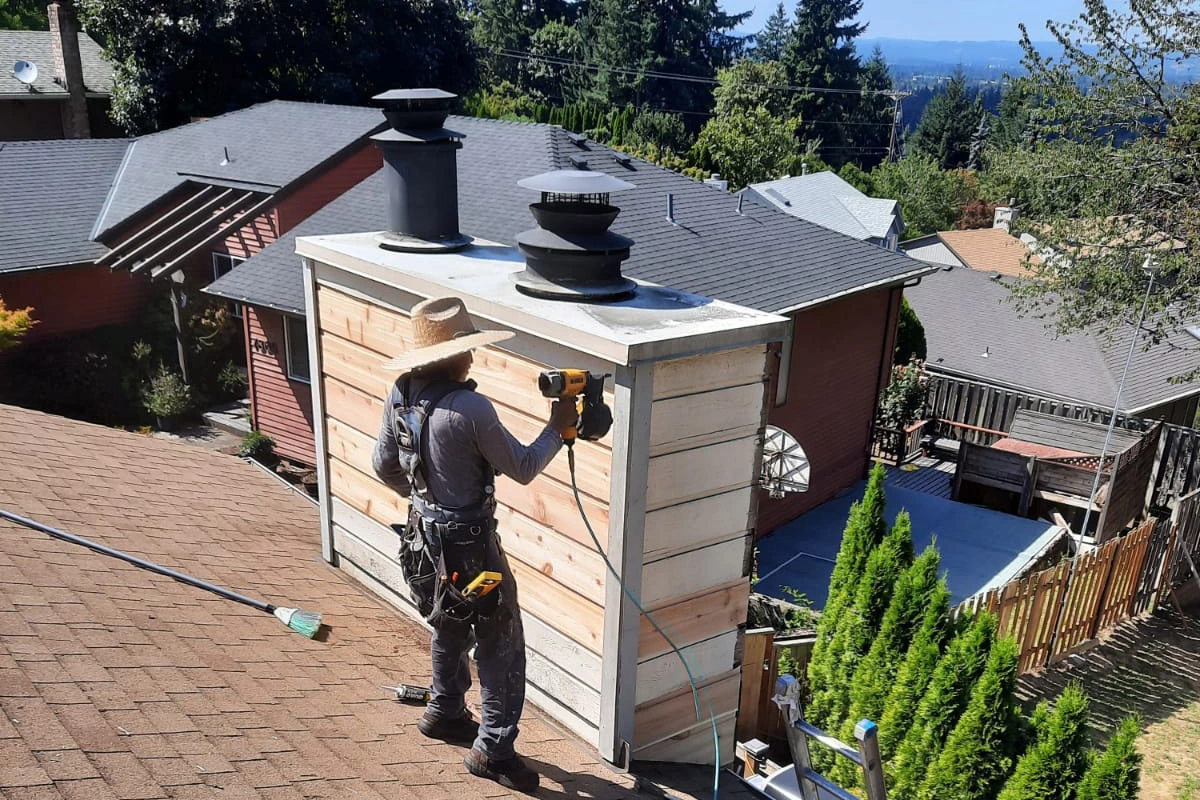 Skylight Installation
Sister Siding installs windows, and that includes the installation or replacement of roof skylights. If you're looking to update your current skylight or to install one, contact us to talk about what you need. *learn more about window installation — button to windows and doors page*
Free Roof Inspection – Free Estimate – Free Moisture Inspection – Free Water Seal Inspection
What Is A Moisture Inspection?
Using a non-invasive moisture meter, Sister Siding can test the surface of your roof to see what level of moisture is or isn't behind its outer layer.
What Is A Water Seal Inspection?
Sister Siding will inspect all caulking as well as roof kick-out flashings, roof fascia flashings, z-flashings and butt-joint flashings to ensure that the home is properly water sealed.
Why Is A Moisture & Water Seal Inspection Necessary?
After each inspection, Sister Siding will give recommendations to the building owner based on what was found so that no surprise water damages creep up during the roofing installation.
"They repaired the exterior of the back of my house and chimney. Good quality work. Great price. Responsive service. Would highly recommend."
– Jeremy Tan
About Our Roofing Warranty
Our clients trust the top brands we offer because each of them comes with the best warranties. In addition to the manufacturer's warranty, we guarantee our work with a 5-year labor warranty as well. If you're looking for local roofers in the Portland Metro Area who can be trusted with your time and investment, give Sister Siding a call and ask about our roof installation and repair services. Our team of roofing contractors and installers will provide you with an honest and upfront estimate for your roof replacement or roof repair needs.
Specific Roofing Services We Offer
Roofing Repairs

Roofing Installation
Full Roof Replacement
Composite Shingle Replacement & Repair
Wooden Chimney Repair
Wood Chimney Siding Installation
Chimney Caps
Other Services We Offer
Siding Repair, Replacement & Installation

Certified Lead Based Paint Removal

Deck Installation

Window & Door Installation

Commercial & Residential Interior Painting

Commercial & Residential Exterior Painting

Deck Replacement & Installation
Contact Us
Contact us to set up a free consultation, and don't forget to ask about our financing options. Our team of experts will come out to your property and give you an honest evaluation for your project. Our contractors are flexible to work with your schedule, so you don't have to worry about setting aside an inconvenient time for us to come out. Call us at 503-979-9819 or reach out via our Contact Page to tell us about your project.