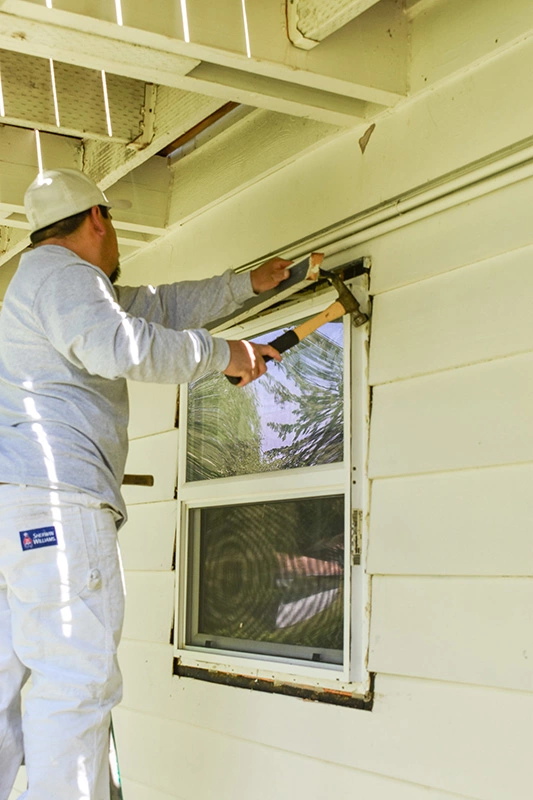 Sister Siding offers a wide range of options when it comes to updating and protecting your house. Our home window repair and door replacement services make changing your windows and doors easy. Our team of trained professionals can help you save money with new energy-efficient options like double-paned windows and insulated doors. Upgrading to energy-efficient windows and doors will not only help to reduce the cost of your monthly bills, but it will also transform the look of your home for the better. Call Sister Siding to schedule your free, no-obligation quote – it really is as simple as that!
Our estimator will visit your home and guide you through the design process to cultivate a custom plan. From there, our Sister Siding installation expert will measure and order your replacement windows and doors right then and there! They will take extra time to ensure all necessary steps are taken for an installation and seal using the manufacturer's guidelines. After measurements are taken and you place your order, our team of contractors will come in and replace your door or window in as little as one day! Our team has amassed a large amount of hands-on experience over the years, which makes them stand out against the competition and deliver a level of work you will truly be happy with for years to come. At Sister Siding, we are happy to handle jobs of all sizes. From a single home window repair or door replacement to an entire house, our window and door installation services can work with any project or budget you have in mind! Our window and door replacement experts are ready to help! Call us to schedule your free quote.
Window Repair and Door Replacement Services
Energy Efficient Window Installation
Milgard Windows
Plygem Windows
Other Services That We Offer
Roof Repairs and Replacement
Interior Painting
Exterior Painting
Lead Based Paint Removal
Residential Painting
Commercial Painting
Fencing and Decks
Contact Us
Contact us to set up a free consultation, and don't forget to ask about our financing options. Our team of siding installation and repair experts will come out to your home and give you a fair and honest evaluation to let you know the exact service you need. We are flexible and work with your schedule, so you do not have to set aside time for us. Call us at 503-979-9819 or reach out via our Contact Page.