Siding Installation, Replacement & Repair
At Sister Siding Co., we are committed to providing outstanding customer service and an unmatched siding and installation service. We will evaluate your project and recommend the best solution for a long-lasting remedy to your siding repair needs. As many locals know, moisture is a common problem in the Pacific Northwest region. Moisture from wind and rain can damage the siding causing rot, commonly referred to as dry rot. A home's siding life expectancy depends on the care, climate, and age of the siding. Whatever your situation and no matter how small or large the project, you can trust Sister Siding to be honest about the required repairs. Our team will explain why and what kind of siding repair and installation service is necessary to fully restore your home's siding. Our team of trained experts walk you through the process so you can understand and feel good about the decision to work with us. At Sister Siding Co., we are more than a Portland siding installation company—we also work on new construction and commercial siding projects. We believe in doing quality work and giving each customer an honest quote every time. We will work hard to be the easiest contractor you'll do business with, and we'll deliver the best service available. 
Portland Siding Replacement and Repair Services Offered at Sister Siding Co.
Siding replacement contractor

James Hardie Siding installation
Make sure to explore our many other services to find the one that is right for you. Services we offer at Sister Siding Co.
Window and door installation

Energy efficient window and door installation

Roof replacement contractor

Roofing

Interior painting

Exterior painting

Lead based paint removal

Commercial painting contractor

Fencing and decks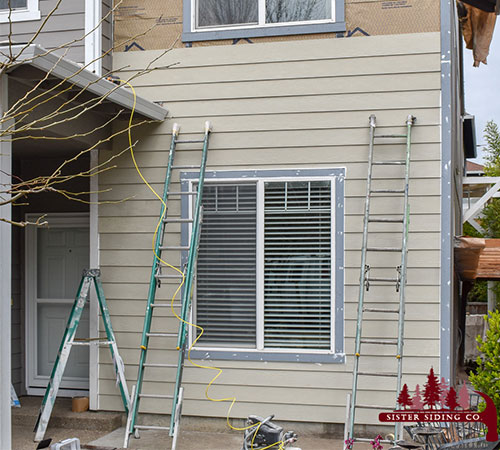 Contact Sister Siding Co. today to set up and schedule your first appointment today! Our team of Portland siding installation and repair experts will come out to your home and give you a fair and honest evaluation to let you know the exact service you need. We can work with your schedule so you do not have to set aside time for us. Call us at 503-979-9819 or reach out via our contact page here.