13 Home Exterior Trends in 2022
13 Home Exterior Trends From 2022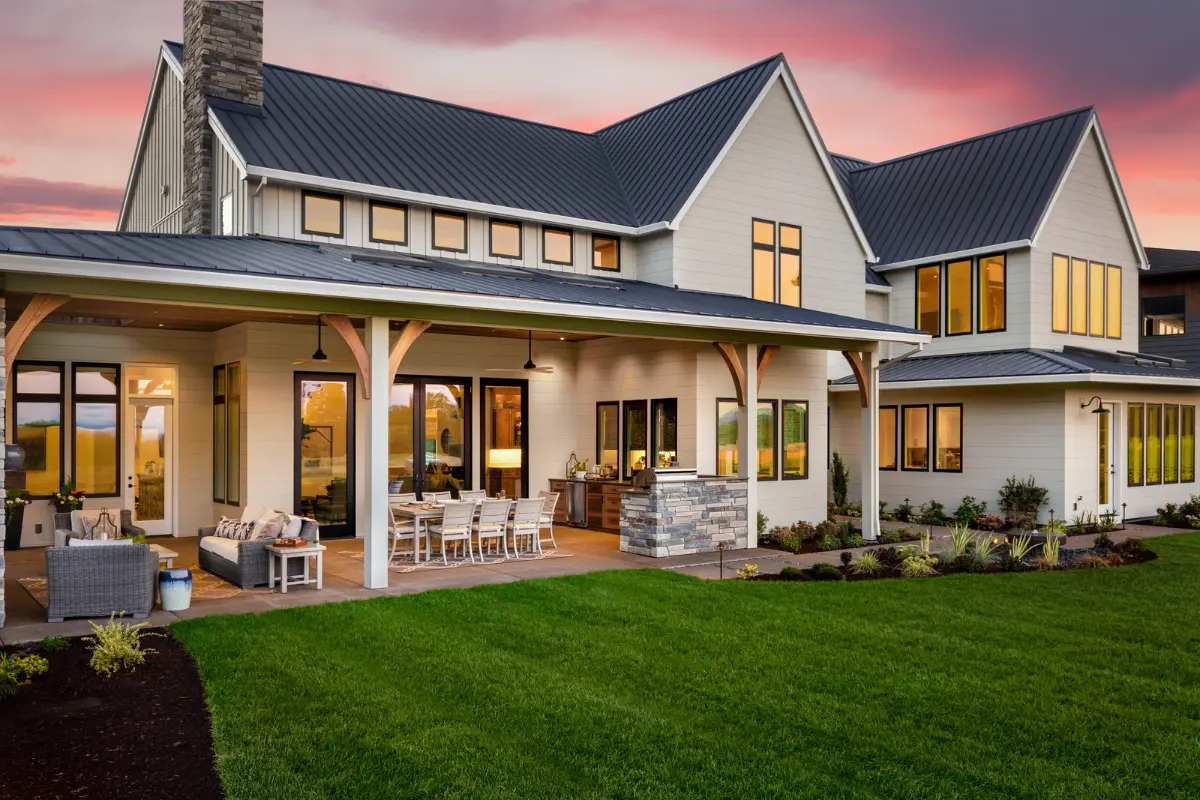 It's no secret that making a house into the "home of your dreams" is an ongoing process, especially for first time homeowners who just moved in. There are so many ideas and designs that can be brought to life. The exterior of a home is a good place to begin. Not only does updating the exterior boost a home's curb appeal, but it will also make coming home that much more enjoyable.
For those who need an extra nudge in their inspiration, below is a list of 12 Home Exterior Trends we've seen and loved in 2022.
1. Earthy, Moody, Clean Siding Colors
Siding changes the entire look of a house. Whatever color you choose, if you're trying to pursue a modern look, keep in mind that bright colors have been opted out in 2022. This is especially important if you're looking to sell your home soon. Darker siding tones have made a scene in 2022, adding a beautiful modern touch up to any home. On the other hand, light neutral tones and whites have come into the picture as well. Different shades of black, blue, taupe, beige, green and other earthy tones will probably remain a trend into 2023.
2. Metal Home Accents
A mix of bronze and copper accents (Barker) blended with dark or light neutral toned homes is becoming more popular. These metals could be incorporated as exterior light fixtures, door knobs, roofs or gutters. For example, a white house with black trim would look beautiful with copper colored accents.
3. Retaining Walls
Retaining walls ("What is a Retaining Wall") aren't just for looks. They can be used as garden beds, as well as a host outdoor lighting attachments. Most importantly they can be built to give your home more privacy when designed around front and backyard lounging areas. Adding improvements to your landscape value through installing retaining walls can also tack on another 15 percent ("Add Value To Your Home With A Retaining Wall") to your home value.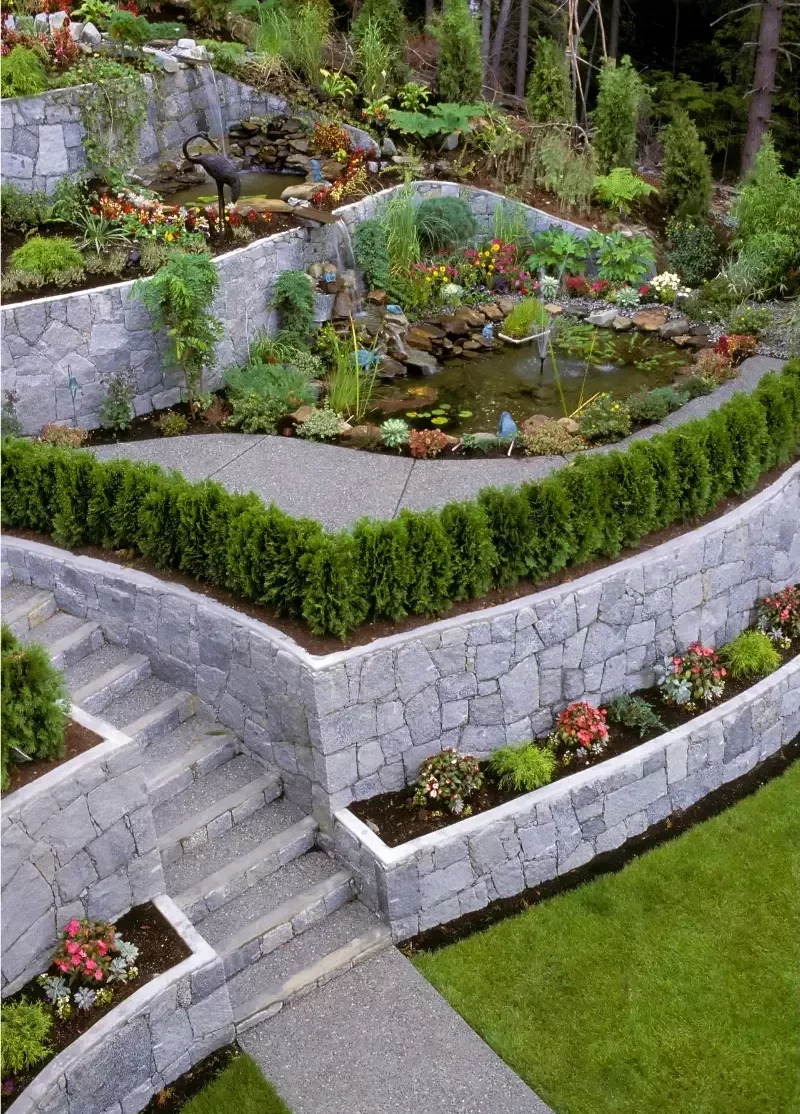 4. Stone or Brick Elements
Stone and brick can elevate the exterior of any home. Similar to exposed wood, it adds a natural look that's appealing to the eye and can also be complementary to natural wood elements. At first glance, natural stone is a more expensive material, so people have often opted for faux stone. High end faux stone does look fairly similar to real stone, but the downside of this switch is that it will not last as long. Natural stone keeps its appearance and quality for years to come ("Cultured Stone vs Natural Stone Veneers: Key Differences") making it the cheaper option in the long run.
5. Exposed Wood
Natural wooden beams, exposed wooden walls, ceilings and patio covers not only look aesthetically pleasing but are also proven to make people feel more relaxed, focused, and calm. An exterior wood finish will give a clean rustic feel to any space.
6. Fiber Cement Textured Siding
Exterior house textures have been a big trend in 2022. Especially when it comes to mixing textured fiber cement siding panels and fiber cement shake siding with stone or brick siding. All of which can elevate and modernize a house. Fiber cement siding is one of the top home renovation materials for adding resale value to a home, it recovers up to 76 percent (Stiver) of a house's initial cost. It's only one of the many reasons Sister Siding loves to use this material for siding installations.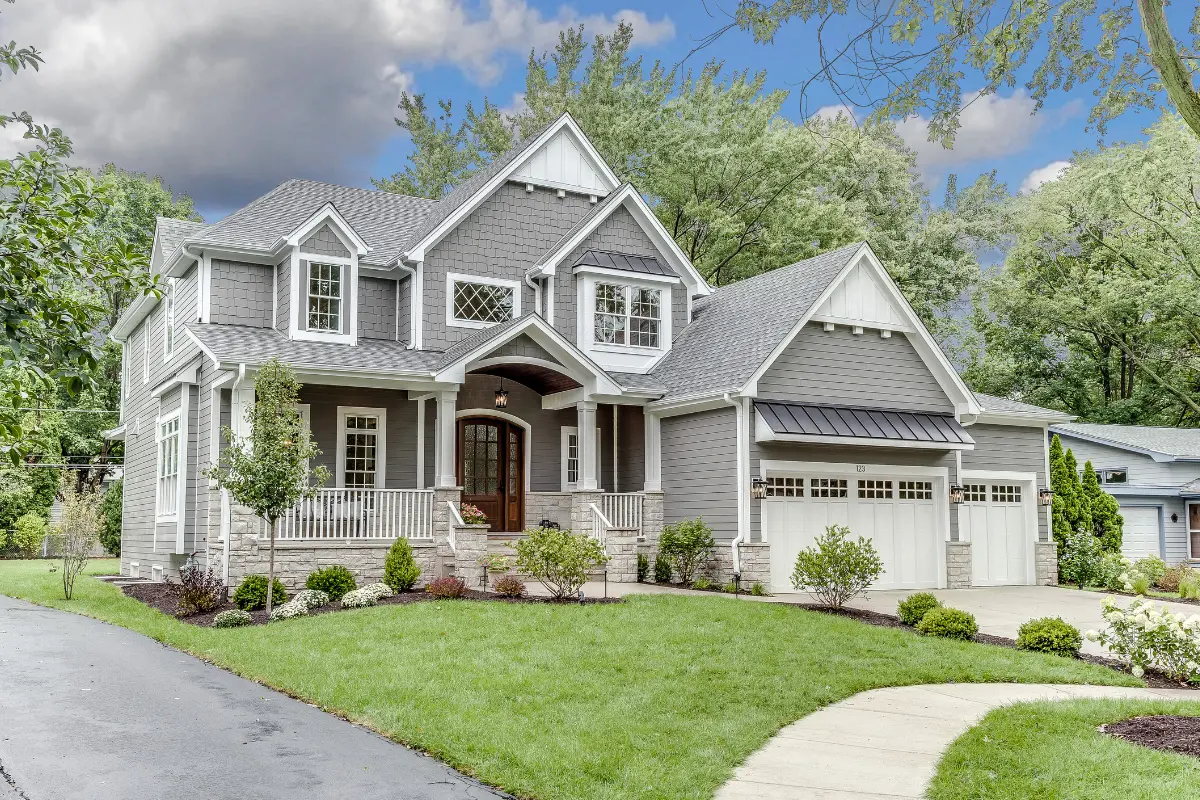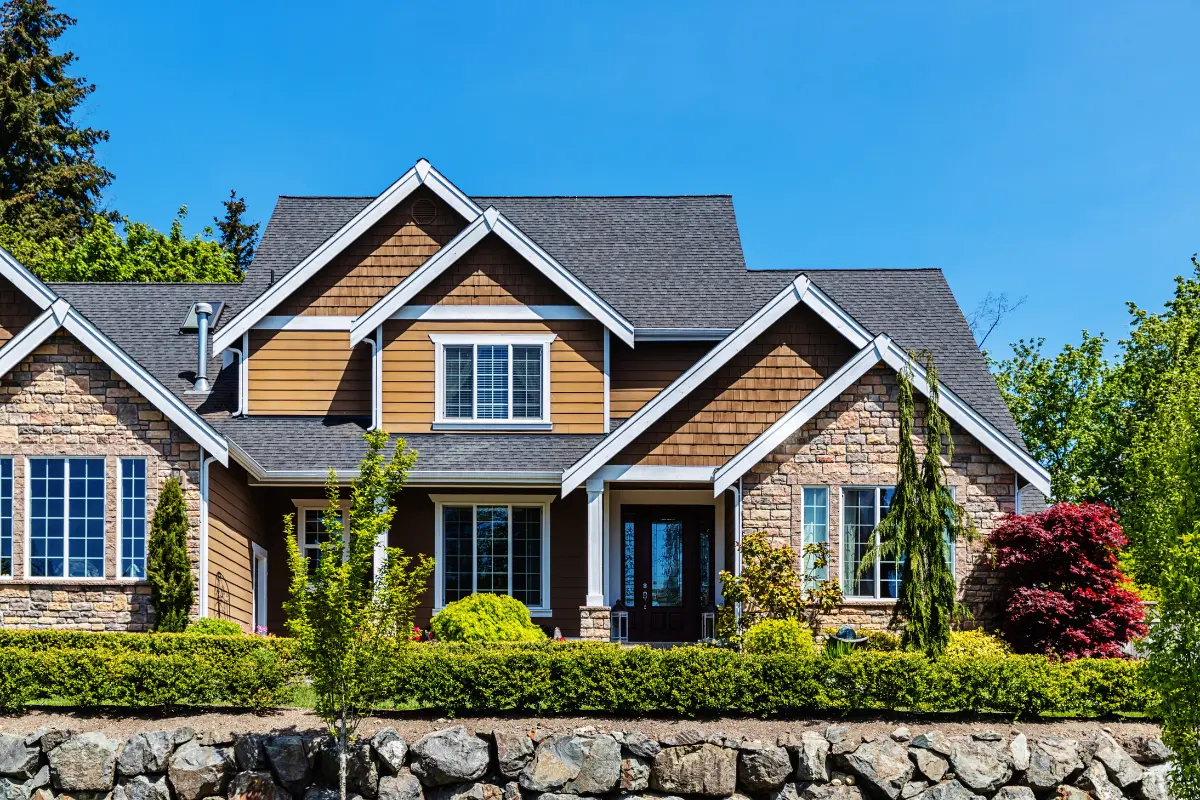 7. Black as an Accent Color
If you're not into the idea of painting your entire house black, and still want to incorporate that color in the exterior, use black for the accents on your home. The color black comes in different shades that can complement an array of other house colors when used as an accent. If your house is white, think of making the house trim black or adding black gutters and lighting fixtures.
8. Minimalism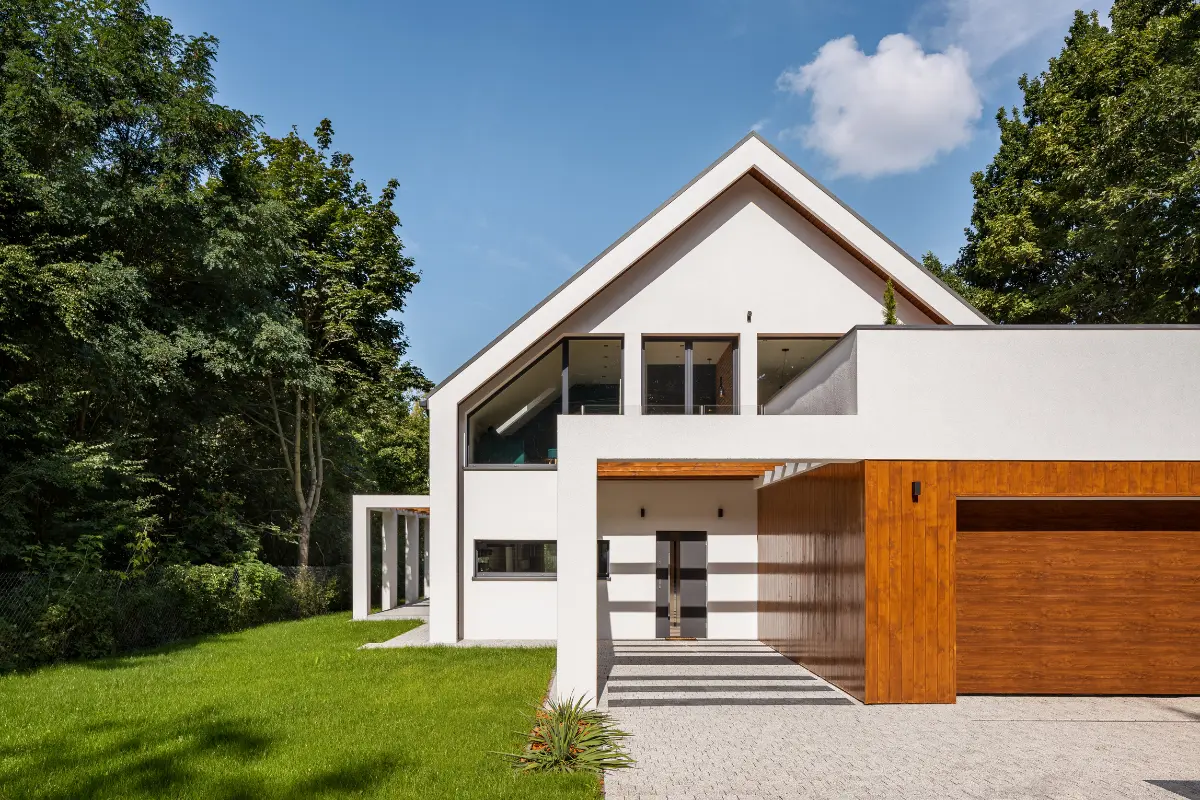 9. Color Family Palettes
This trend isn't new, it has just never gone away. Staying within the color family for all the colors included in the exterior of your home will make it look visually pleasing which helps its curb appeal. For example, cool colors like blue, white, and green shouldn't be mixed with warm colors like red, yellow or orange. Instead, pair a sky blue with white or gray (Gerhardt). Sister Siding offers color consulting and house painting for homes in the Portland metro area. If you're nearby, contact them for some extra pointers!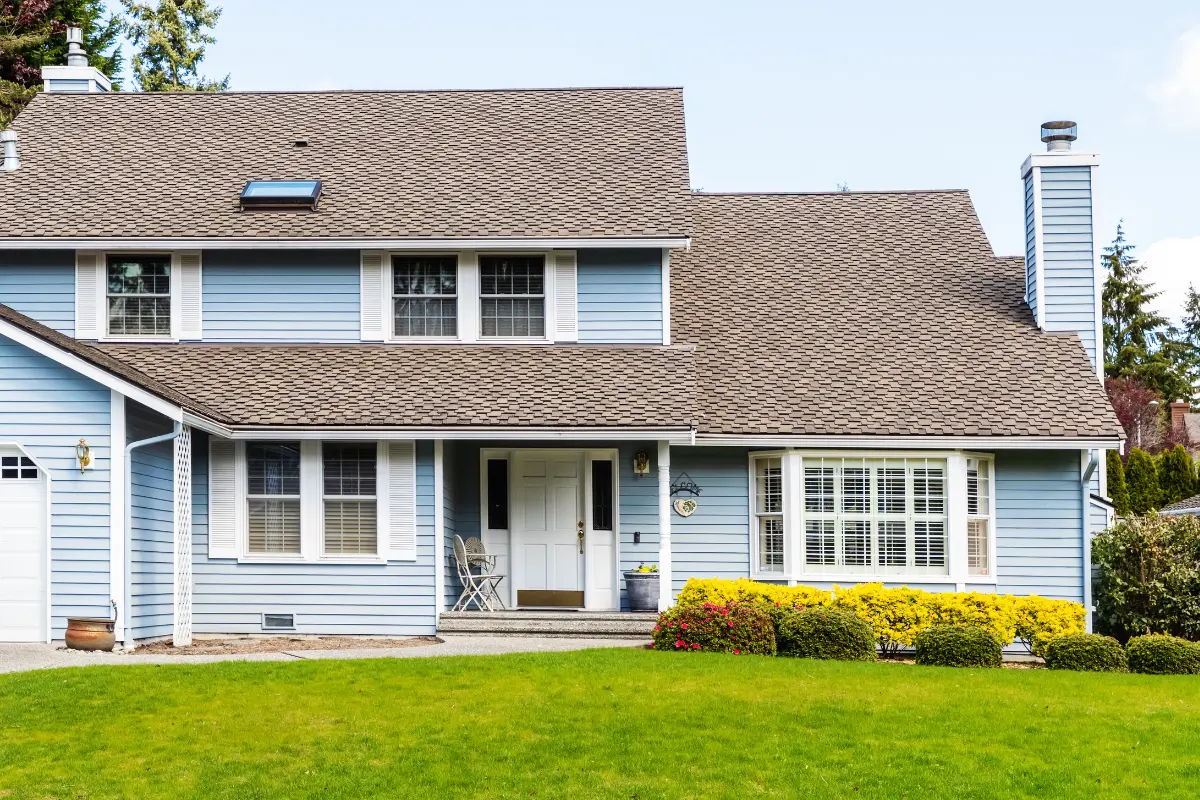 10. Outdoor Living Quarters
More and more we are seeing fireplaces, couches, flat screen TVs, kitchenettes, cozy fire pits, barbeque areas and pizza ovens outdoors on covered decks, covered patios connected to the yard, and porches. It's a living room and kitchen, only outdoors. Organic and modern (Leyendecker and Evans) colors and furniture for this type of space has been a big trend as well.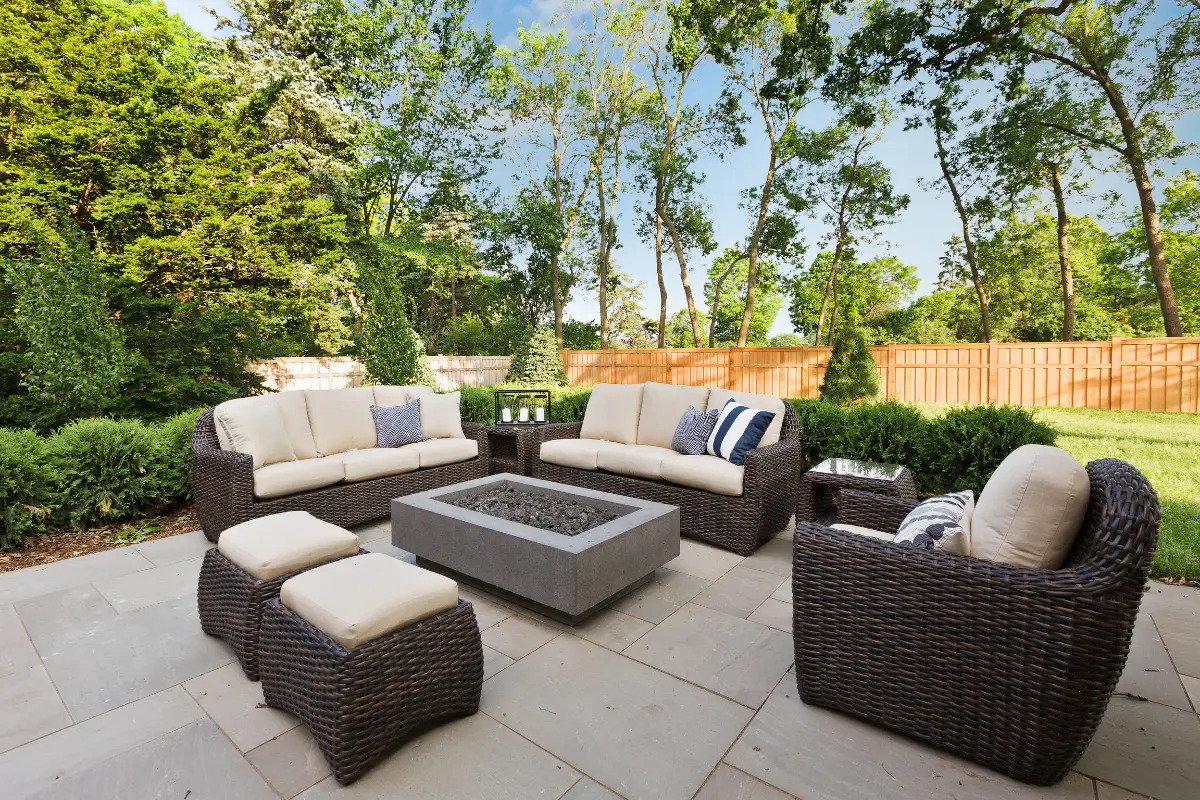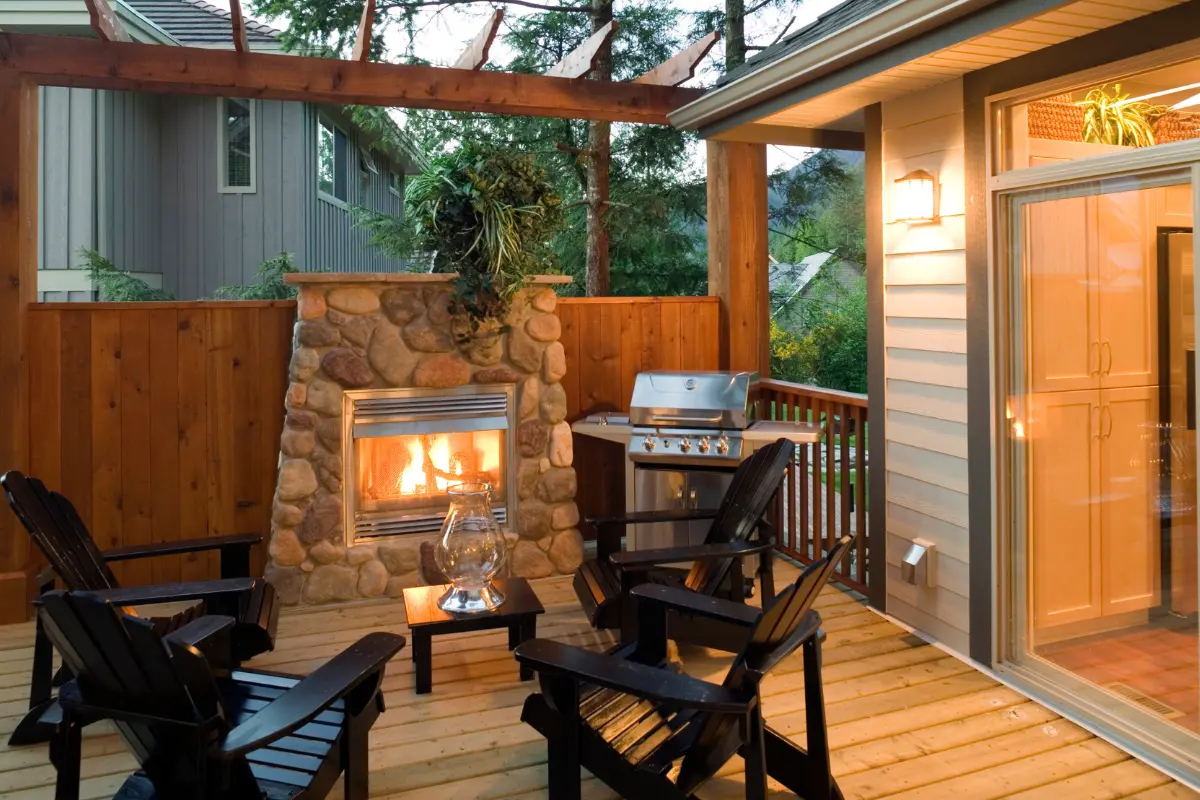 11. Large Glass Windows
Big windows have always been a thing, but the trend has definitely made its way back around in 2022. People are wanting to utilize more natural light. What better way to do that than to install tall glass windows? Big windows also help the space inside of a house appear larger, so it's a great way to open up a smaller looking space as well. If you're in the Portland metropolitan area and have this window trend in mind, contact Sister Siding for a professional window installation process.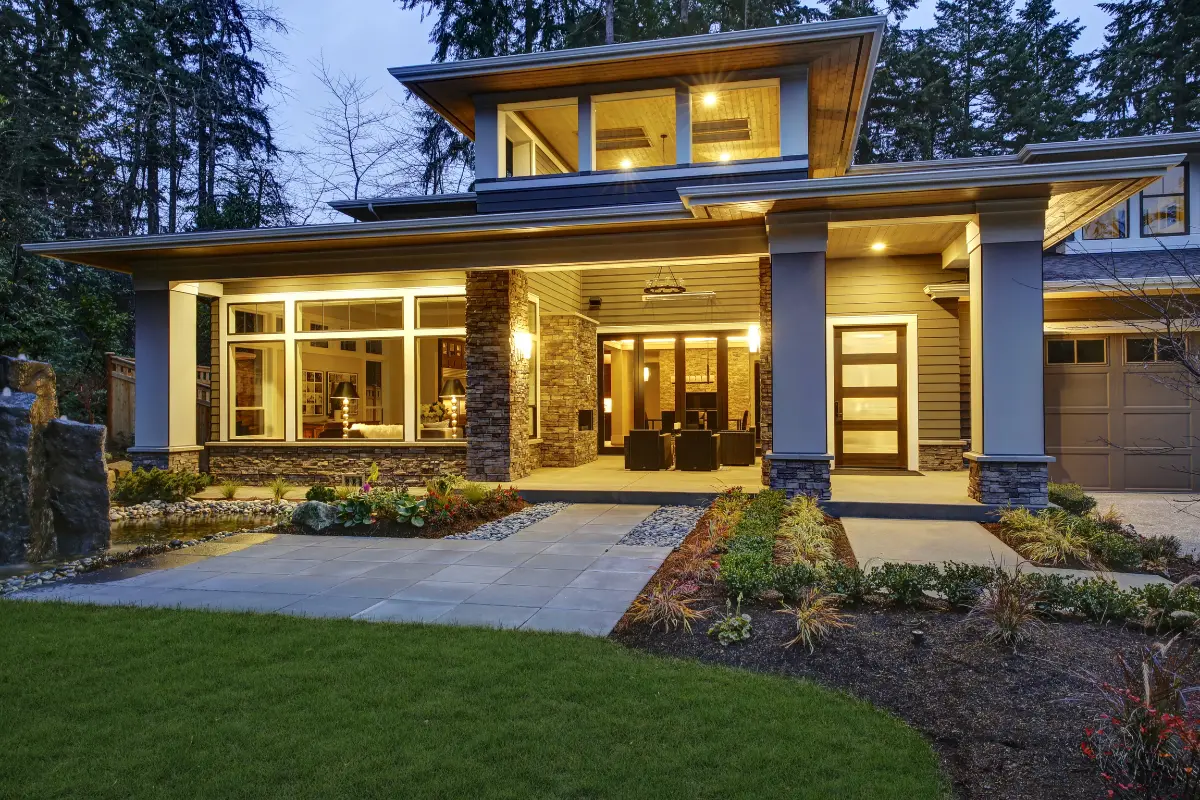 12. Exterior Lighting
Outdoor lighting has always been essential. Dreamy string or accent LED Lighting for decks or patios is an ongoing trend that isn't going anywhere soon. The same goes for exterior wall lighting, pathway/driveway lighting, and garden lights. Another lighting trend can include outdoor fireplaces on decks and patios or fire pits surrounded by comfy outdoor seating.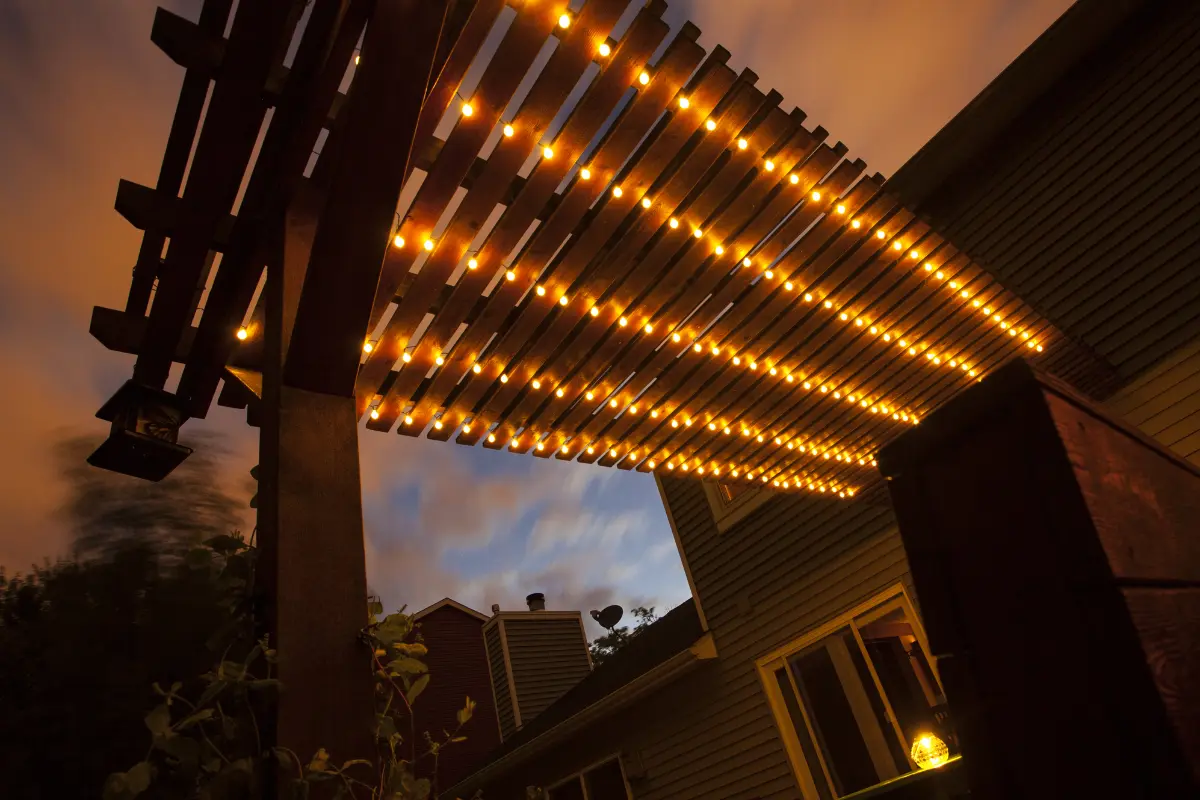 13. Window or Garage Headers
Whether it's exposed natural wood, textured, or matching the trim color of the home, window and garage headers are an accentuating detail that can be added to any home. They simply add an extra layer that catches the eye and can look beautiful on any style of home from modern to Victorian.
Extra Things To Consider
When updating the exterior of your home in any way, it's important to consider color as a main factor. The paint colors you choose for your home will have the biggest impact on the overall look, and will tie other exterior changes together.
Choose a House Color That Makes You Happy
Trend or not, make sure to choose house colors that you actually like. At the end of the day, coming home should make you smile. Trends change, so you should ultimately go with a house color that makes you happy. Let's say your favorite color is pink. We wouldn't recommend painting your home hot pink, but you could choose a faded nude pink or a mauve tint. The same goes for all color options—instead of choosing a typical blue or gray, go with navy or a deep stormy shade. Don't be afraid to take a spin on the color wheel!
The House Trim Color Is Important
Trim is the final detail of house colors that makes everything flow together. The most important part of choosing the trim color is to ensure it complements the siding color. If you have decided to go with dark blue siding, then trim in true white or light gray will create a distinct look for your home. Depending on what color your siding is, familiarize yourself with complementary colors before choosing the trim, or have a color consultant direct you on some ideas.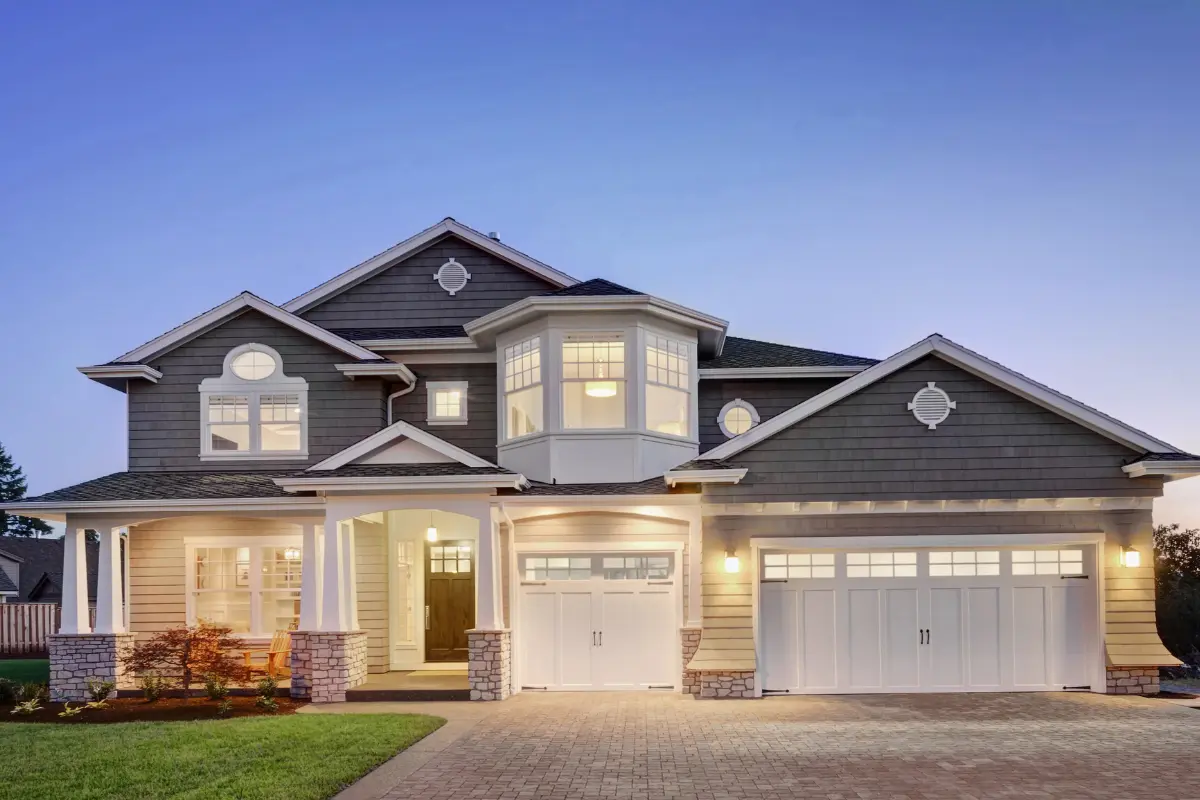 Think About the Future Value
If you're a homeowner who knows you will be selling your home in the next few years, classic colors or tones can up your resale value. Sister Siding can help people in the Portland Metro area choose siding that's both desirable and fresh for a timeless look that any home buyer would love.
Don't Forget the Warranty
With US home improvement costs rising year over year, you want to be sure your home improvement projects have a warranty. For example, Sister Siding offers a five-year warranty on our labor and all products we use have a warranty as well. Warranties offer the homeowner a lot of peace of mind.
When choosing to make any home improvements to your house, it's always important to keep security and future protection at the forefront of any changes. No matter the trend, safety is the top priority when updating your home's exterior. If doing major renovations, be sure to choose a local contractor you can trust. Aside from that, we hope you found some helpful ideas to pursue your next home exterior change!