Top 12 Reasons To Replace Your Front Door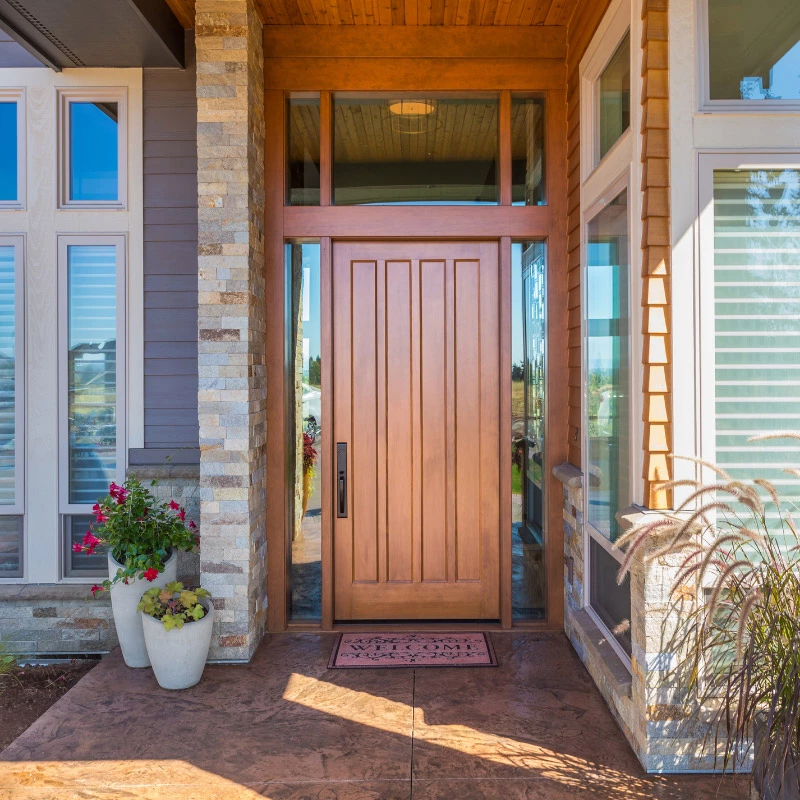 Quality structures and a firm foundation contribute to the peaceful feeling that homes offer. So, if your home lacks quality you may not feel as secure as you'd like. One of the most fundamental features of that warm "home sweet home" cozy feeling is a durable front door. Your front door is not only the face of your home; it's practically your house's bodyguard. For this reason, a new door is both an affordable and important investment ("Is a New Front Door a Good Investment?"). If you're not sure when you should consider getting a new front door, let the following list of reasons guide you.
1. You Have Doors That Don't Lock
Your home is your sanctuary of security. If your door doesn't lock, has a broken lock, or an outdated lock, that's an issue. You'll have a couple of choices for this predicament. Calling a locksmith and replacing the lock is an option. However, you might need to replace your whole door if the door itself is what's causing your lock issues. If the door is the primary problem, you may end up switching out a new locking mechanism more times than necessary. Save time and money in the long run by upgrading your door to a new model that will keep you and your family safe.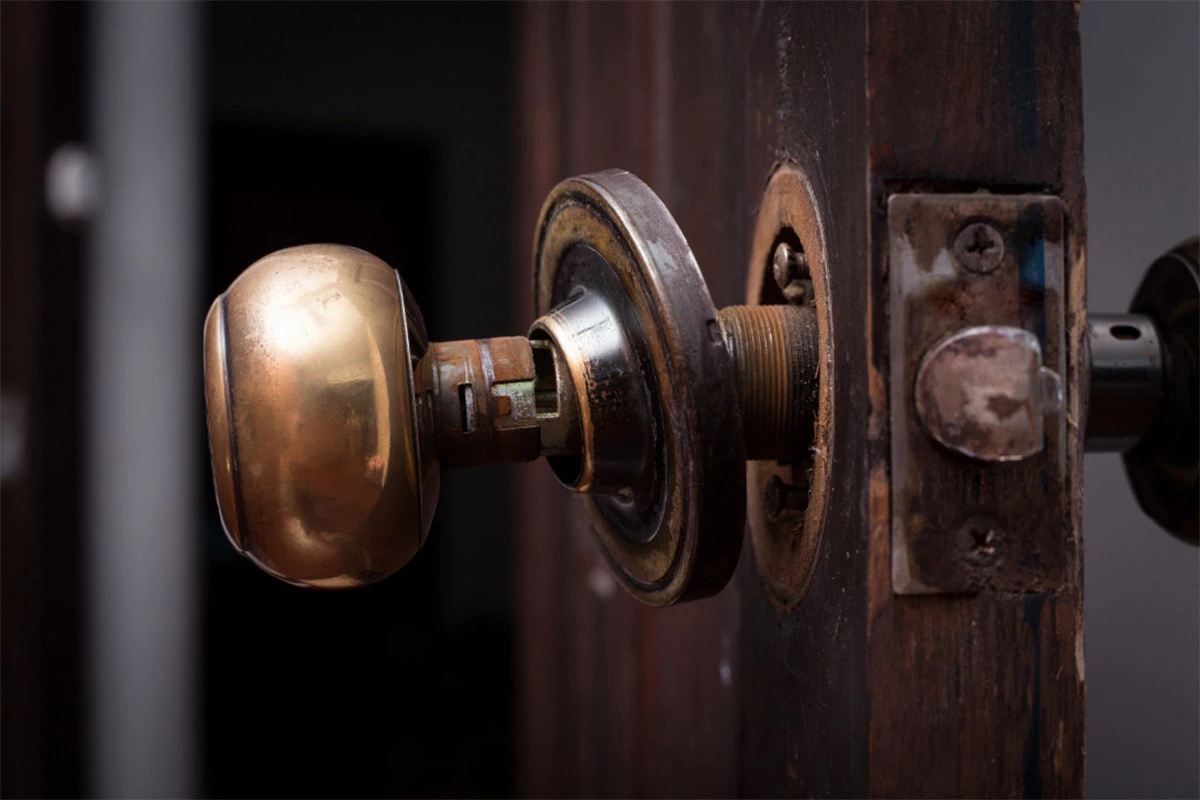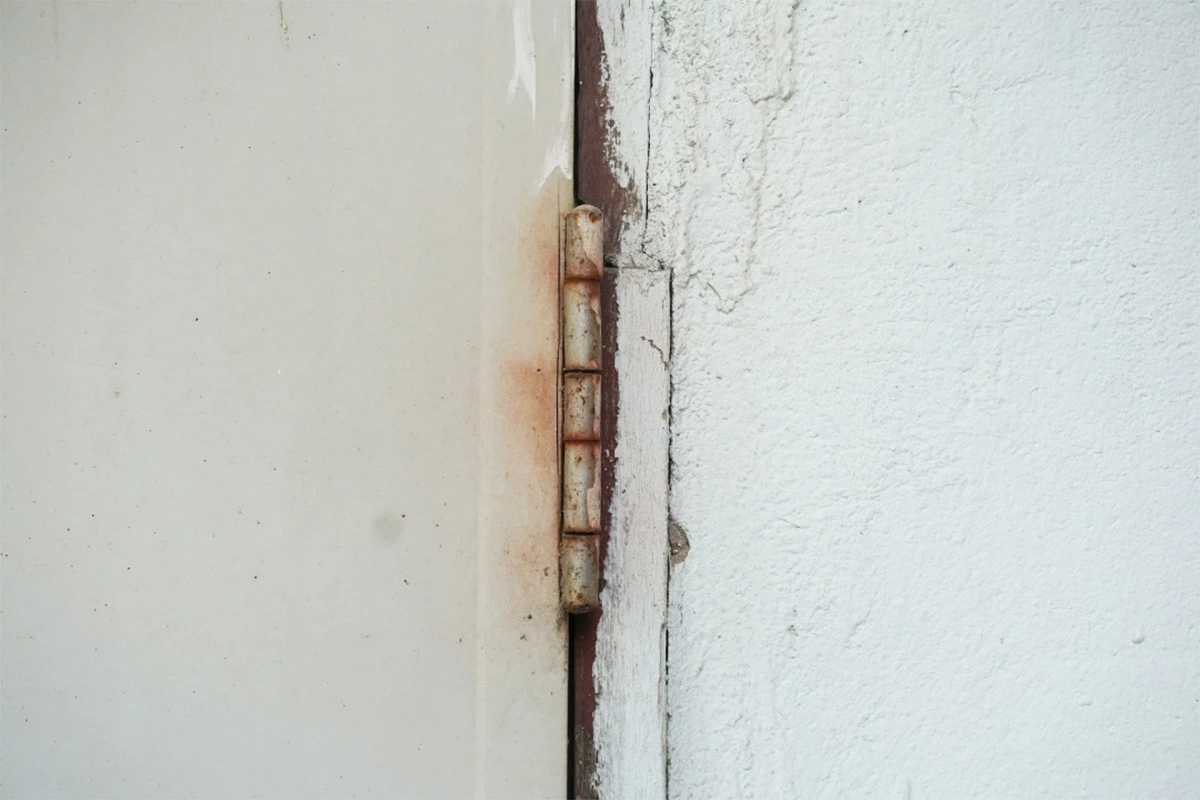 2. Your Door Is Difficult To Open
Your door shouldn't hinder you from getting in or out of your home. If your door is sticking ("When to Consider Replacing Your Front Door"), this may be a sign of damage. The hinges may have sunk into the frame or corroded, leaving rusted metal parts fused together. Further, warping or breaks in the door's seal may cause jams. Without a tight seal, the door's material may expand and contract as temperatures fluctuate during each season. For instance, wood will swell in the summer, causing doors to stick to their frames.
3. There Are Gaps Between the Door and Frame
Gaps between your door and its frame is a sign you need to replace your door. This type of damage will overburden your HVAC system. Similar to how windows and insulation keep your home warm, your doors help seal your home and maintain temperature differences between the inside and outside. You'll notice gaps if there's a draft near the door or you see some light coming in around the edges.
4. Front Door Damage
Obvious damages to your front door are sure signs you should replace it. You can try repairing the damage, but repairs may come undone and require multiple rounds of maintenance, which could cost you more in the long run. Inspect your front door for signs of damage that may hinder it from doing its job. The most common damages that indicate you should replace your door include:
Dents
Rust
Cracks
Peeling paint
Faulty lock/hinges
5. To Have A Better Looking Door
Depending on the age and condition of your home, you may simply just want to update your door. If your door looks like it has visible wear and tear such as discoloration, you could replace it to increase your curb appeal and property value. Modern doors feature all sorts of materials that can be painted or stained per your preference. If your home has an old door, it will be nice to update it to a stronger option.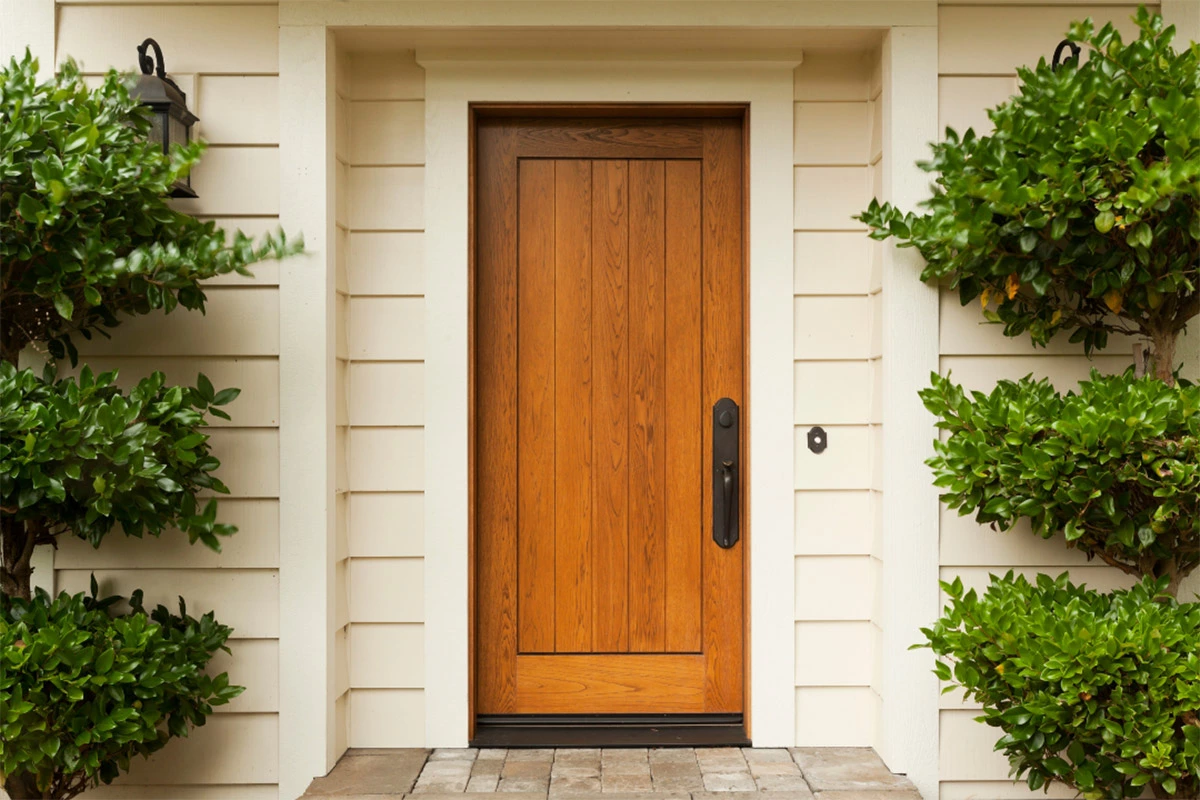 6. To Match Your Door To Your Siding
One reason you may decide to upgrade to a new door is to match the exterior of your home. For instance, if you change the color or style of your siding, you may want to change the door as well. Make your home improvement upgrade worth it by considering the aesthetic of your entire exterior.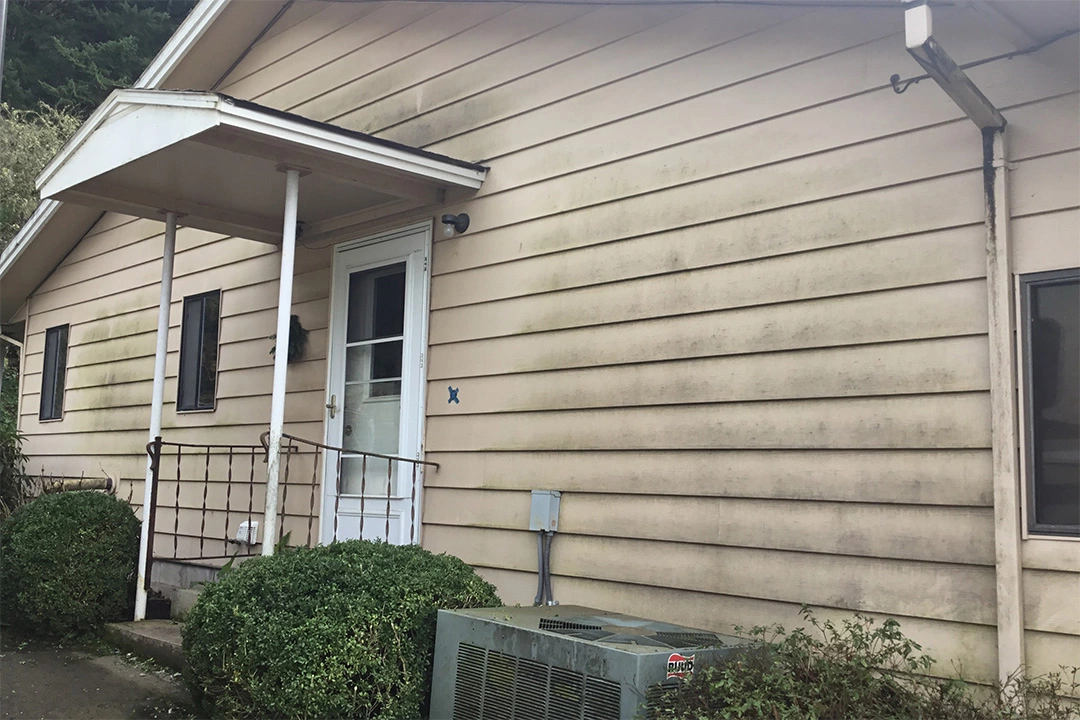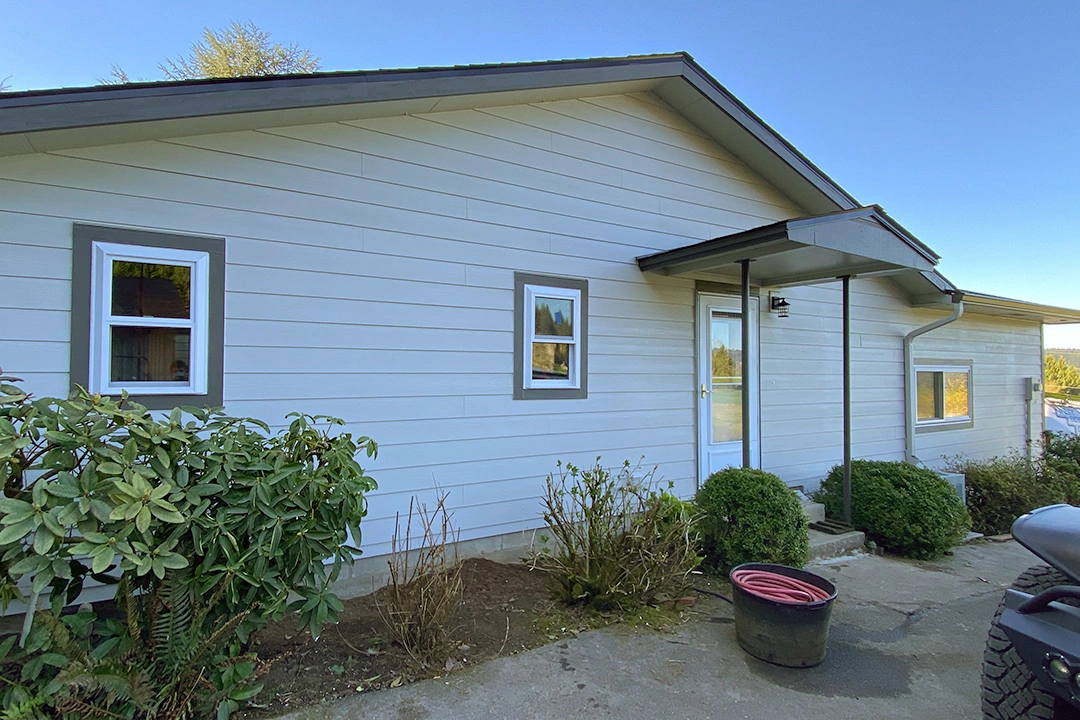 Pro Tip: Don't leave out your roof, windows, or shutters. You should upgrade and match these elements with other updates to keep your home appeal.
7. Safety Upgrade
Your lock might work perfectly fine, but you still might consider installing a new door if your old one doesn't provide you enough security. Whether the door is damaged or made from outdated materials, you should replace your door with a modern option that is more sturdy. Modern doors are made with stronger materials and advanced technologies that improve the strength of both the door and its locks. Steel and fiberglass doors are harder to kick in than old wood doors, and compatible modern locks are equipped with extra security systems that alert you when an intruder enters your home. Your front door should have strong locks, properly hang on its hinges, and fit securely in its frame. Moreover, it should open with ease when you need it to so that you never have to worry about getting in or out of your home.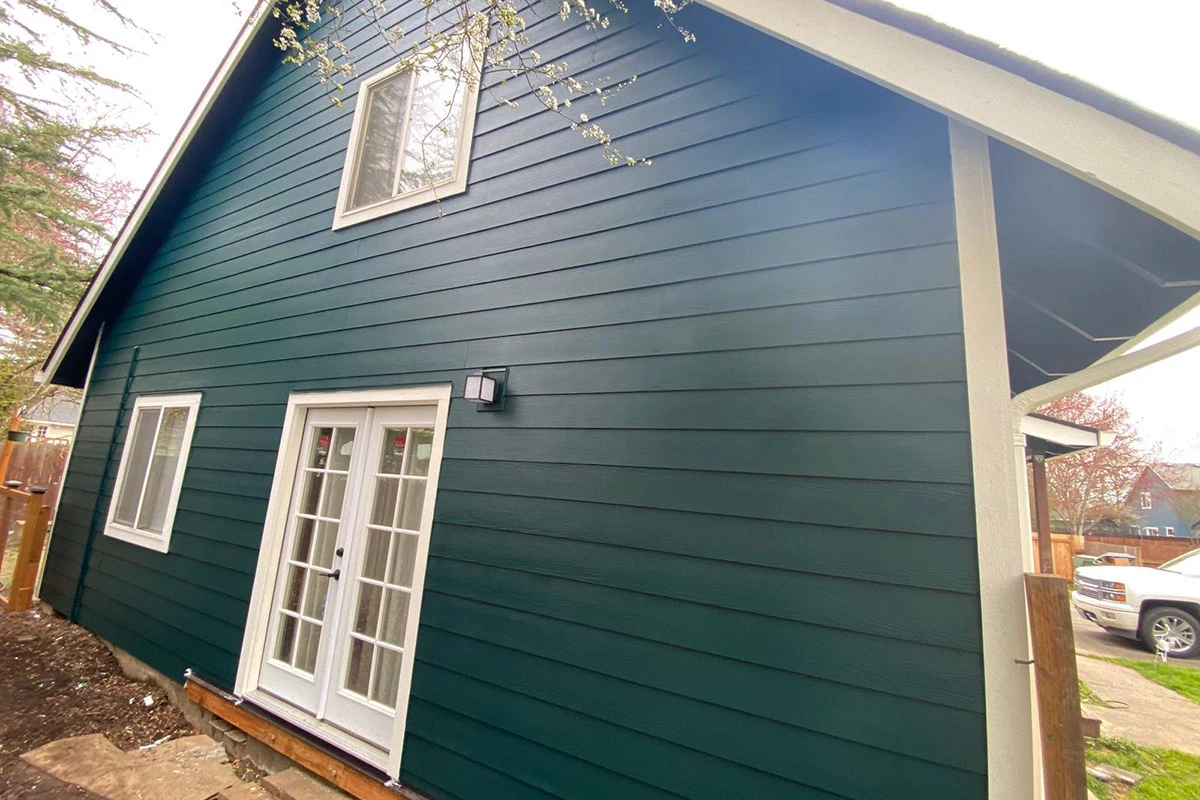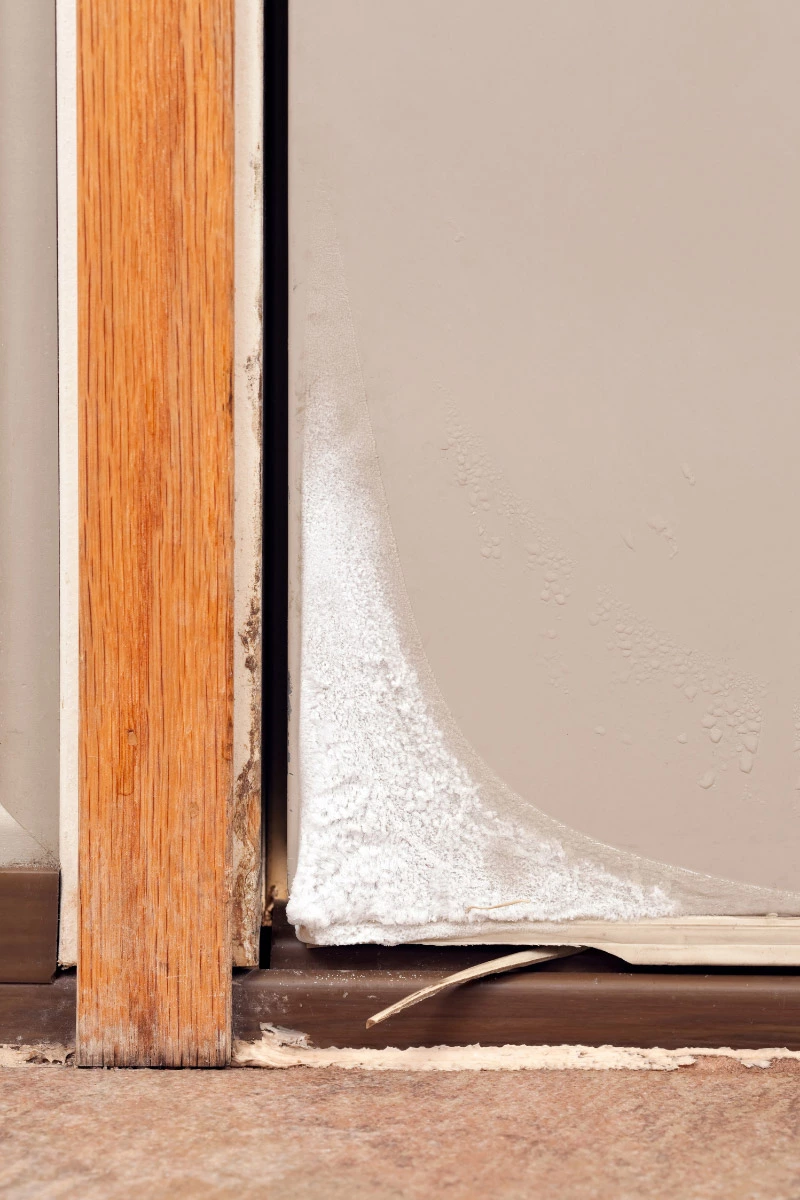 8. To Lower Energy Bills
If you've noticed a change in your energy bill, you should check your door. You might be losing energy through your door if there are drafts coming through. Old doors can't handle the energy needs of modern homes. There might not be noticeable gaps in your door, but the space between the door and frame may be wider than it needs to be. This could be due to faulty installation or older doors and frames in general. Part of the advanced technology used to create today's doors is within insulation. Modern doors are heavy and designed with built-in weather stripping and polyurethane foam insulation. The right insulation and a proper seal on your door will save you money in the long run. In addition to your door, examine your siding, roof, and windows for damage that may be increasing your energy bill as well.
Pro Tip: While your home will lose energy throughout the year if your door is poorly insulated, it will be most noticeable during winter.
9. Boost Curb Appeal
One of the easiest ways to improve the curb appeal of your house is to spruce up the front of your home. This is the part of your property that gives people the first impression of it. Making the front of your house look stunning is the best way to improve its value as well as the value of other houses in your neighborhood. If your old door is bringing down the appearance of your home, it is time to install a new one. You should choose a door that matches your house's architecture and design. A variety of styles and materials allow you to match the door you had before, or you can go with something completely different.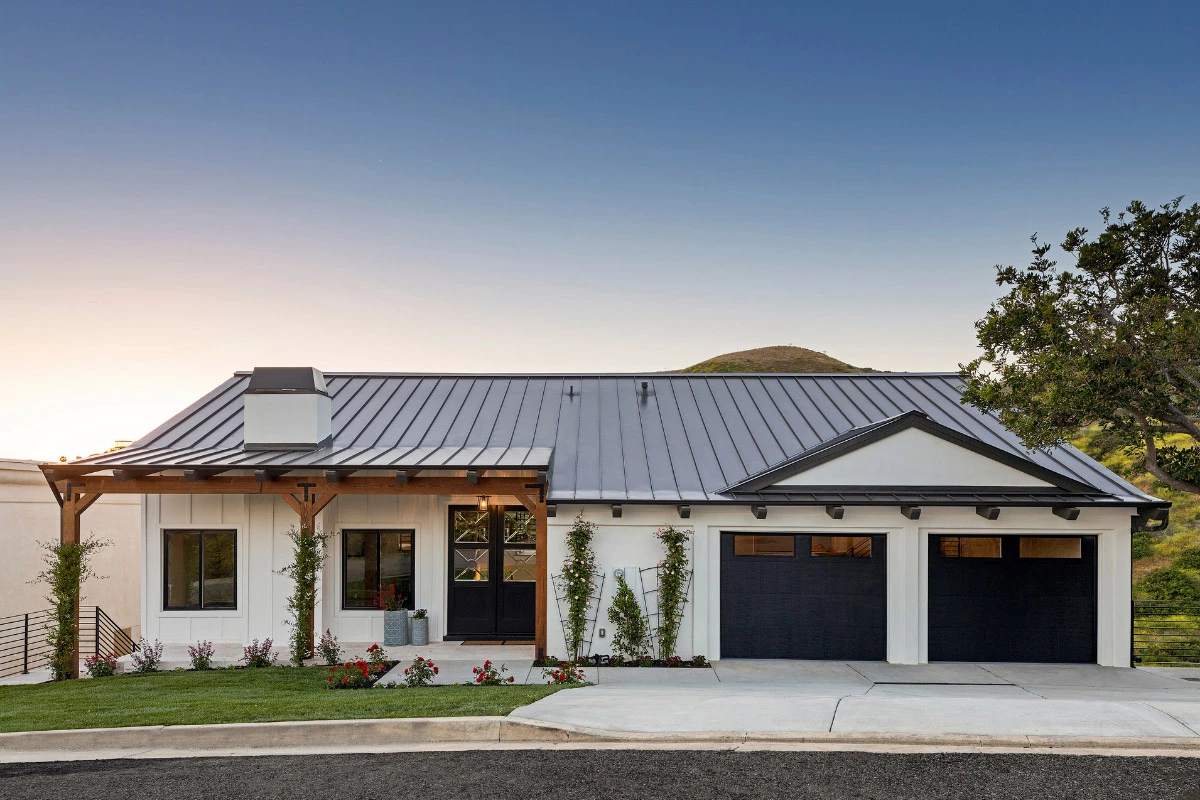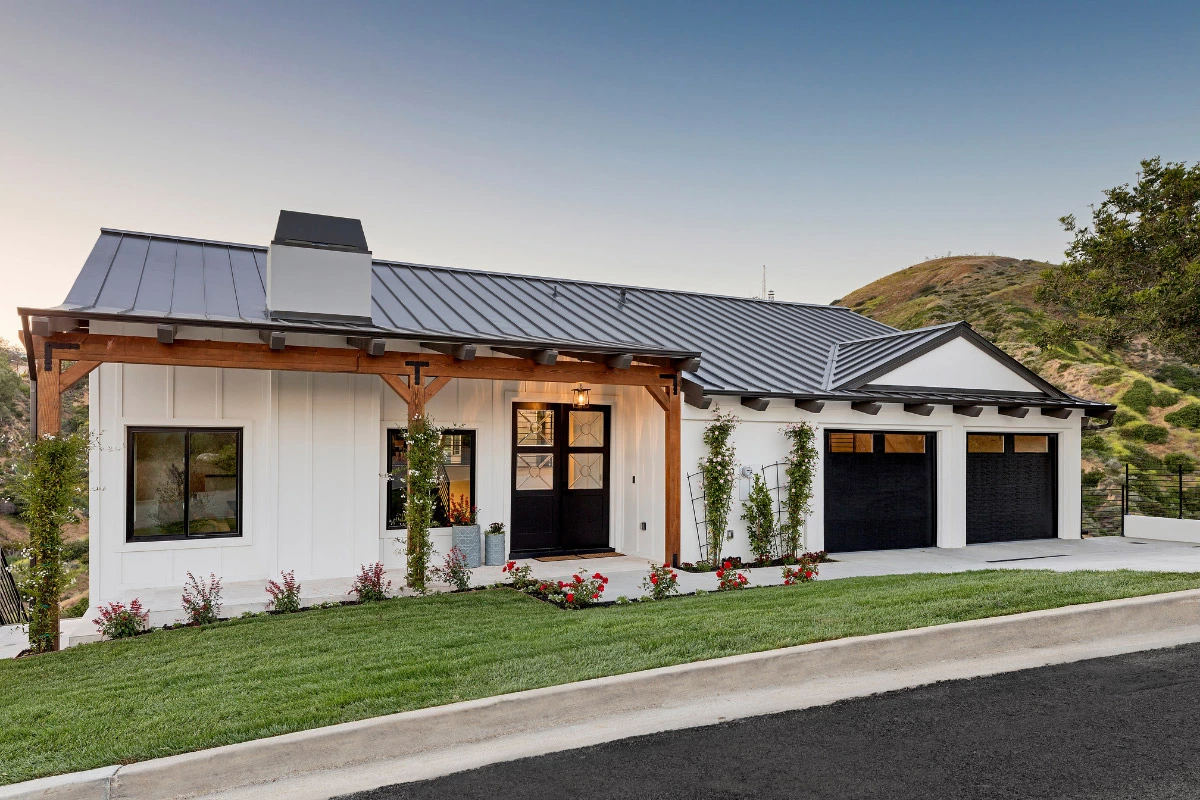 Home with a simplistically beautified entrance and neatly maintained lawn.
Pro Tip: You can also boost the curb appeal of your home by planting flower beds near the entrance and mowing the lawn regularly for a clean maintained look. Adding other types of greenery or an aesthetic arrangement of planters will elevate the front of any house.
10. To Make Your Home Accessible
Old doors tend to be narrow and inaccessible for wheelchairs, strollers, walkers, etc. While you're considering the benefits of replacing your home's front door and which kind of door would be best for your house, consider your lifestyle in addition to your potential future lifestyle. Especially if you plan on living in your home for many years, you should think about any major life changes and the stages of life you will go through while living there; Such as starting a family or growing old there. A wider door will not only accommodate your needs but the needs of family and friends who will be able to access your home easier if you install a door they can use as well.
11. Durability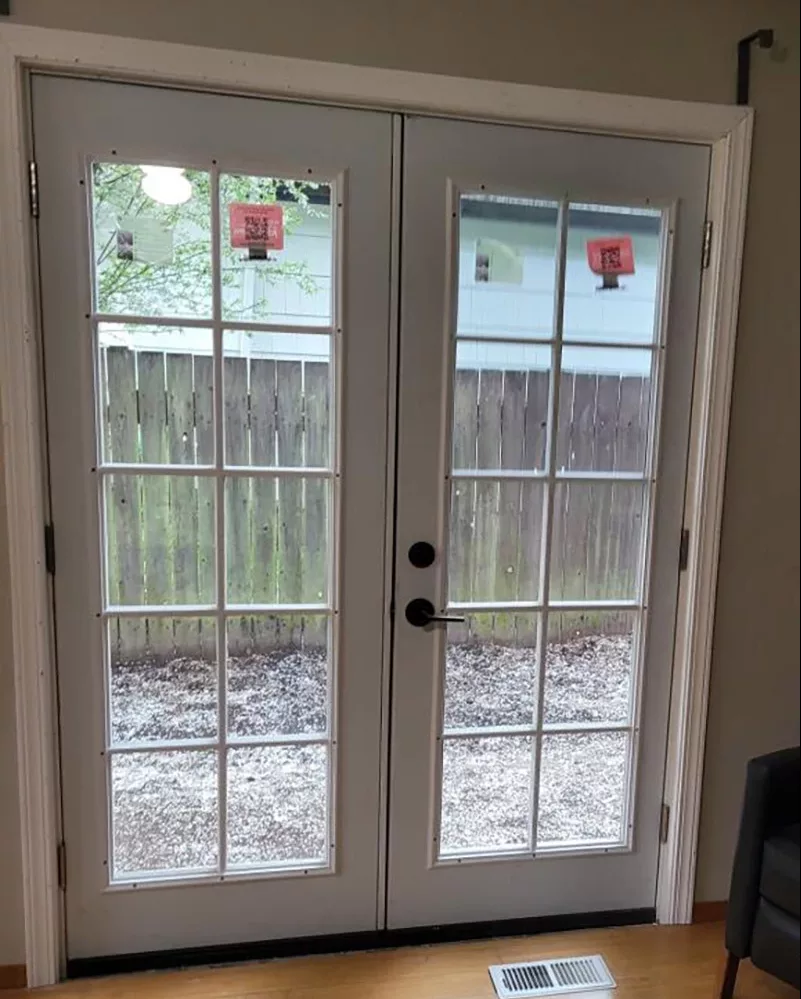 Double doors installed for accessibility.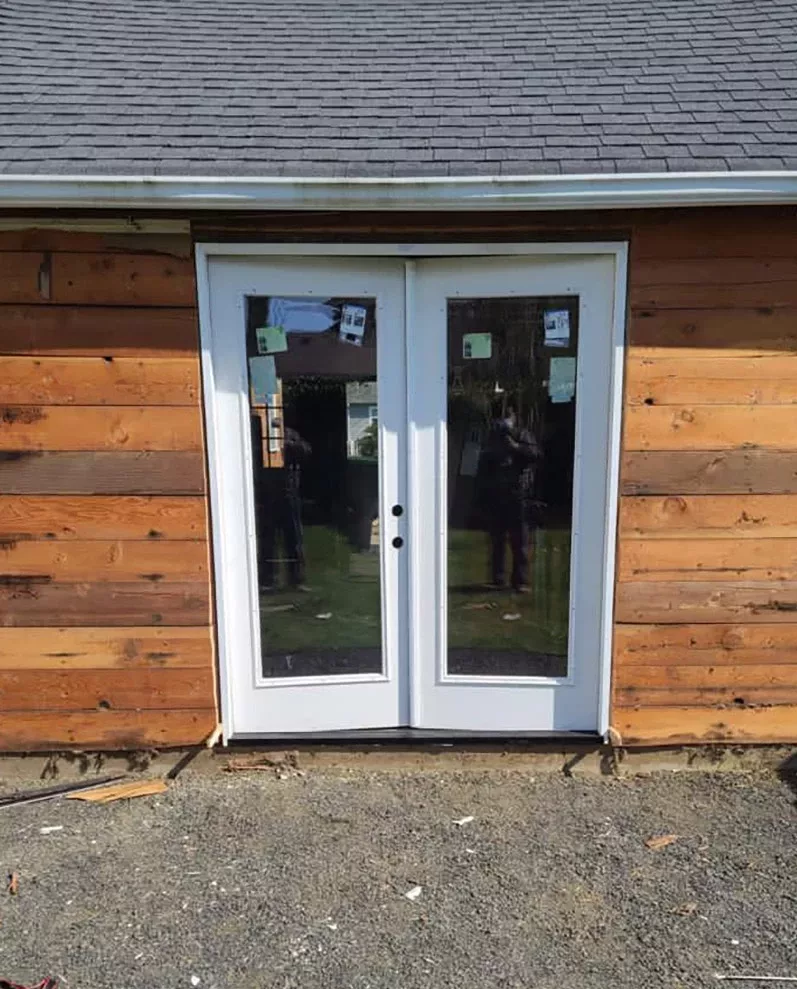 Installed by Sister Siding.
Many homes are fitted with the original doors they had when they were constructed. Not all home builders prioritize doors when designing a home, especially in the case of older homes. If your old door is showing signs of damage, it is probably made of weak materials. Modern doors are stronger because they are made of heavier materials. They resist warping, chipping, and peeling and can better protect your home. Today, homes need durable doors to protect against natural and man-made hazards. If your door and locks are weak enough, they could be knocked out with a heavy gust of wind.
12. Different Door Types
Your door may be perfectly sufficient and meet all your needs but one; the type. The different types of front doors available might trigger your interest and become the reason you change your door. There are multiple shapes and mobilities – manual, automatic, smart/electric accessibility – to choose from. More importantly, there are different types of materials to consider.
The two main types of front door materials used today are steel and fiberglass-composite. Fiberglass-composite is popular because it can replicate a variety of wood types. It's ideal for hard, humid climates as it resists mold, mildew, and rust. Steel is the strongest material for doors; it's also resistant to mold, in addition to being difficult to damage and easy to repair if it does get a dent. Steel and composite are also the most budget-friendly options compared to wood.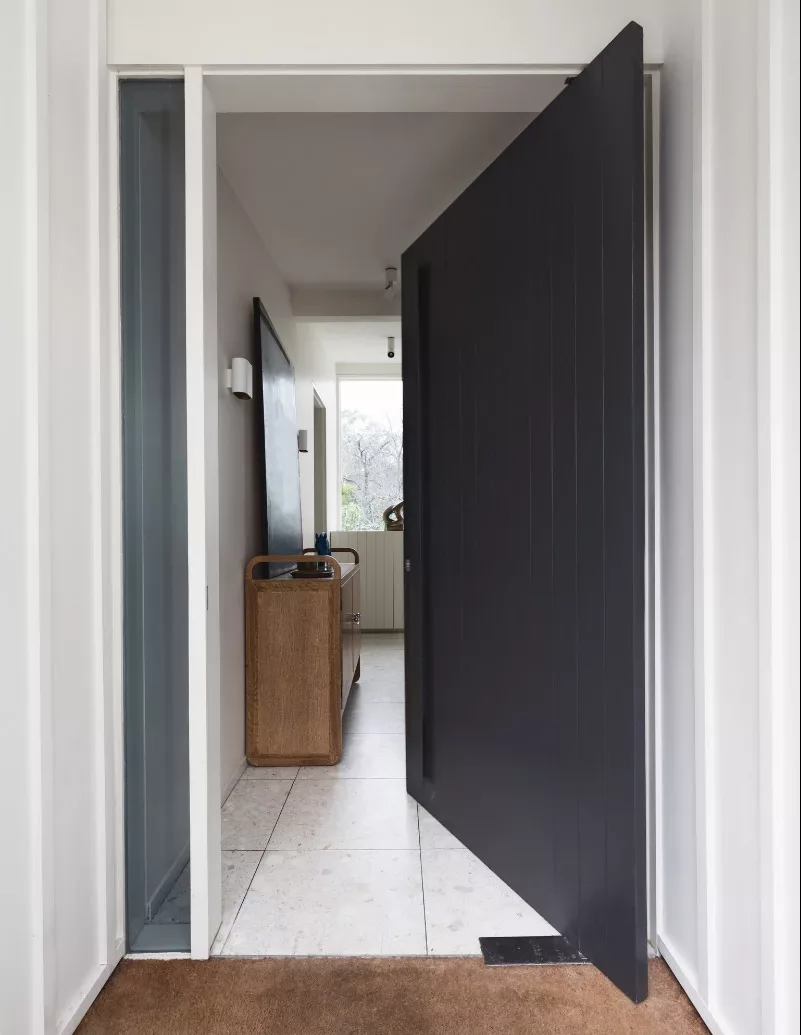 Types of Door Materials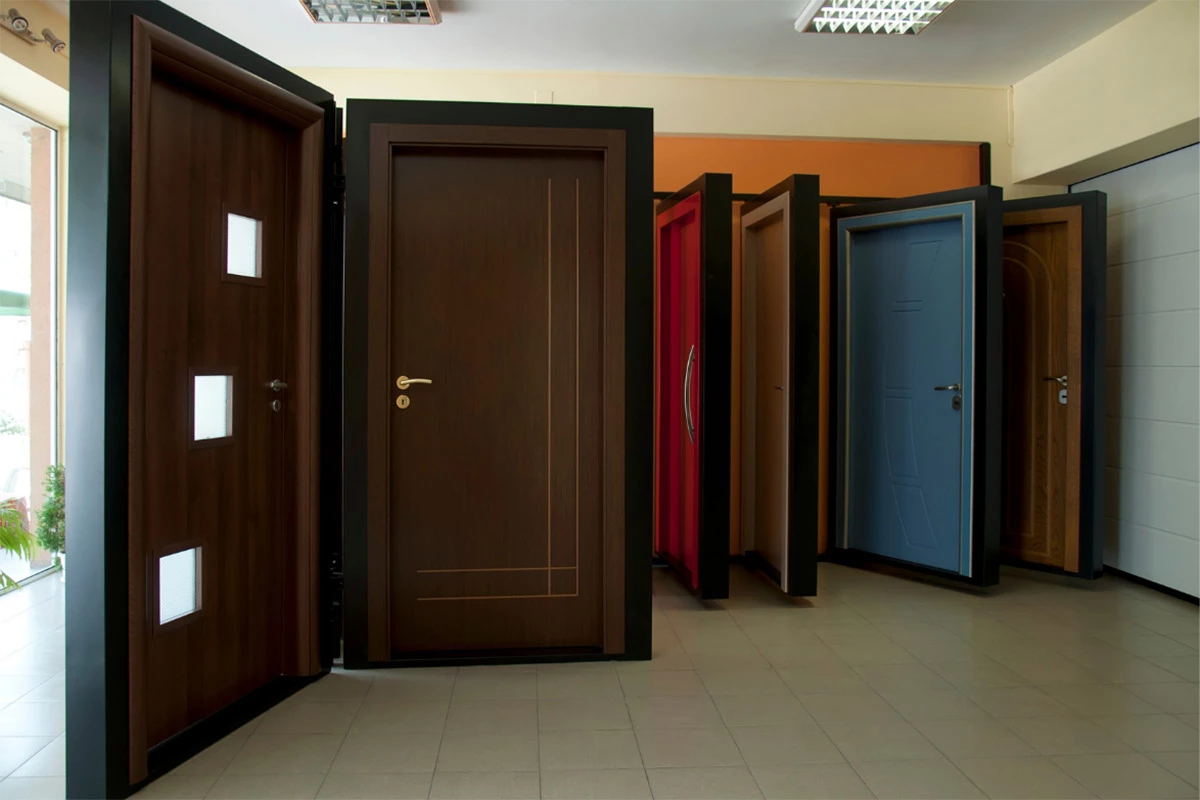 The type of material you choose for your door will depend on your budget and needs, but most entry doors can last 30+ years with proper maintenance (Guetebier). Regardless of the surface material you choose for your door, it will likely still have a wood frame. The most common door materials include:
Wood
Wood doors are a popular choice for residential homes and come in a variety of styles and types. While you can get high-quality wood front doors that will last a lifetime, they usually have a higher price tag than other types, and require a good deal of maintenance. You will need to stain or paint your exterior wood door once every 3-5 years ("Steps To Maintaining Your Exterior Wood Door") to keep it in its best shape. Solid wood doors are extremely durable when it comes to safety, but wood is more likely to suffer damage from dry rot and pests. For this reason, wood doors are typically recommended for climates that don't get much moisture.
Common wood types that people use for doors include:
Cherry

Walnut

Oak

Pine

Fir

Mahogany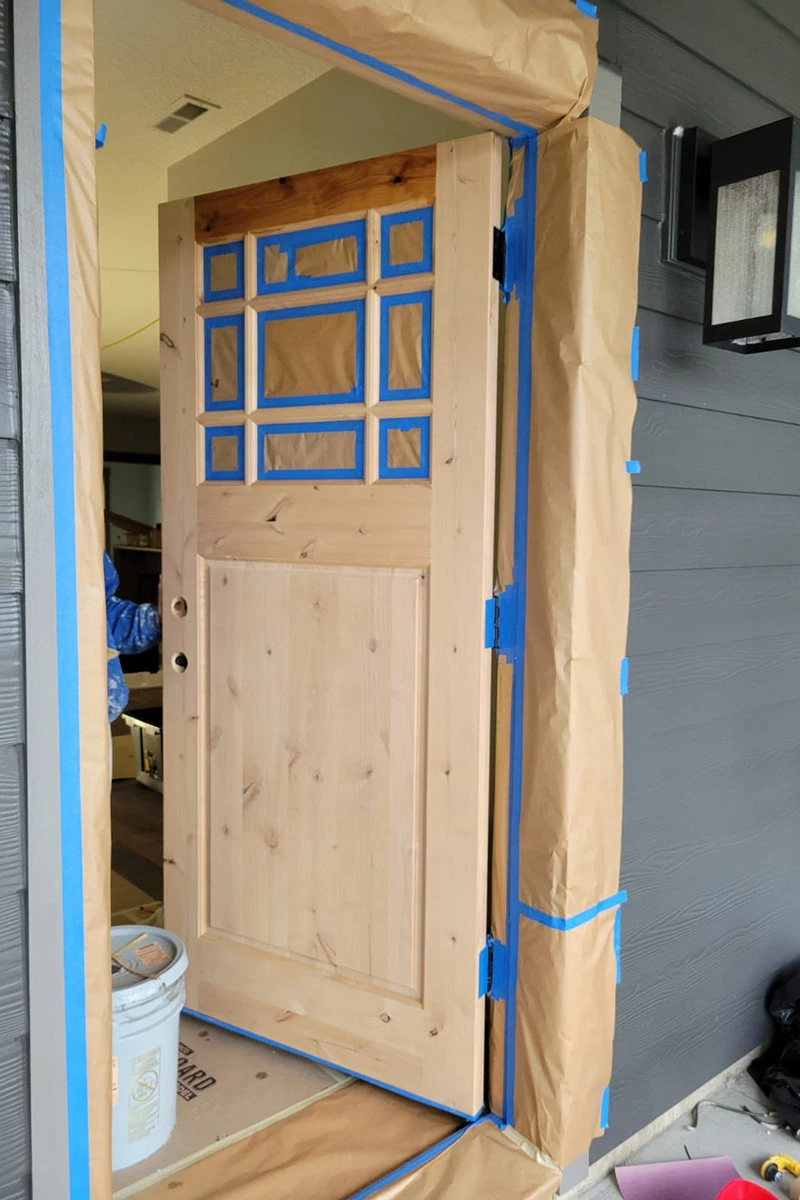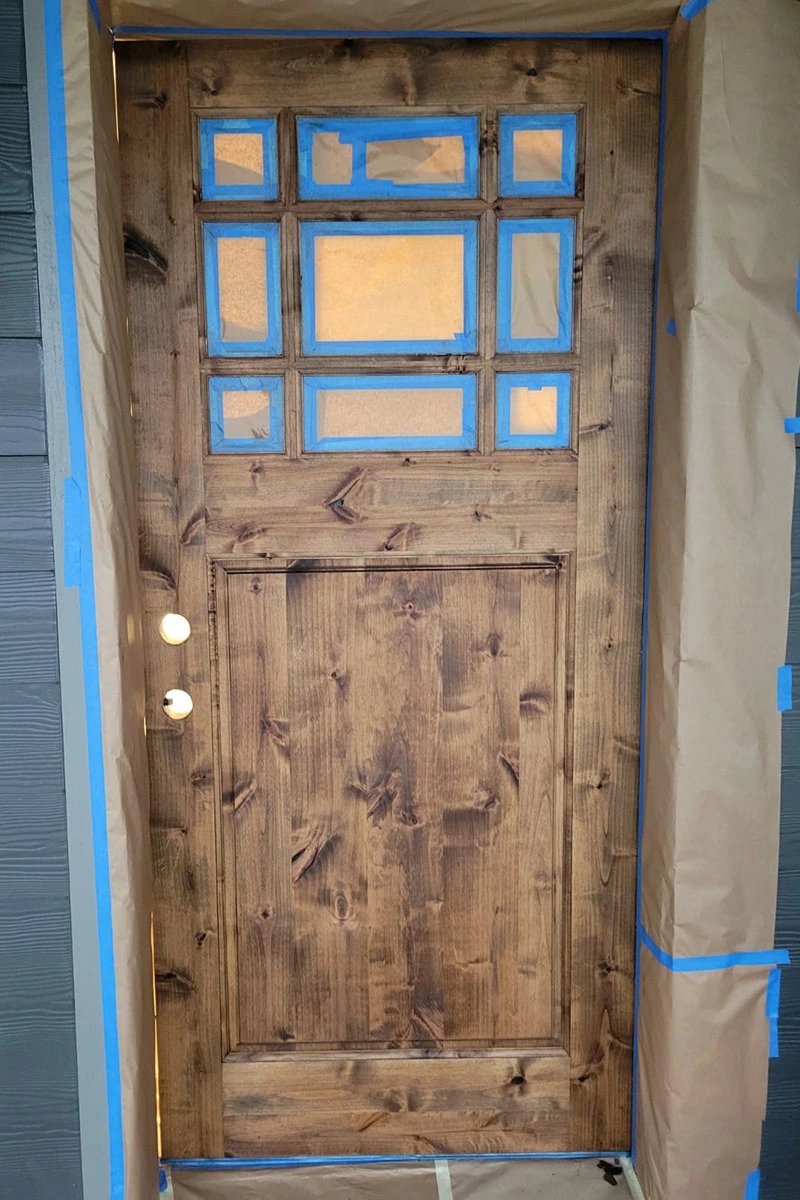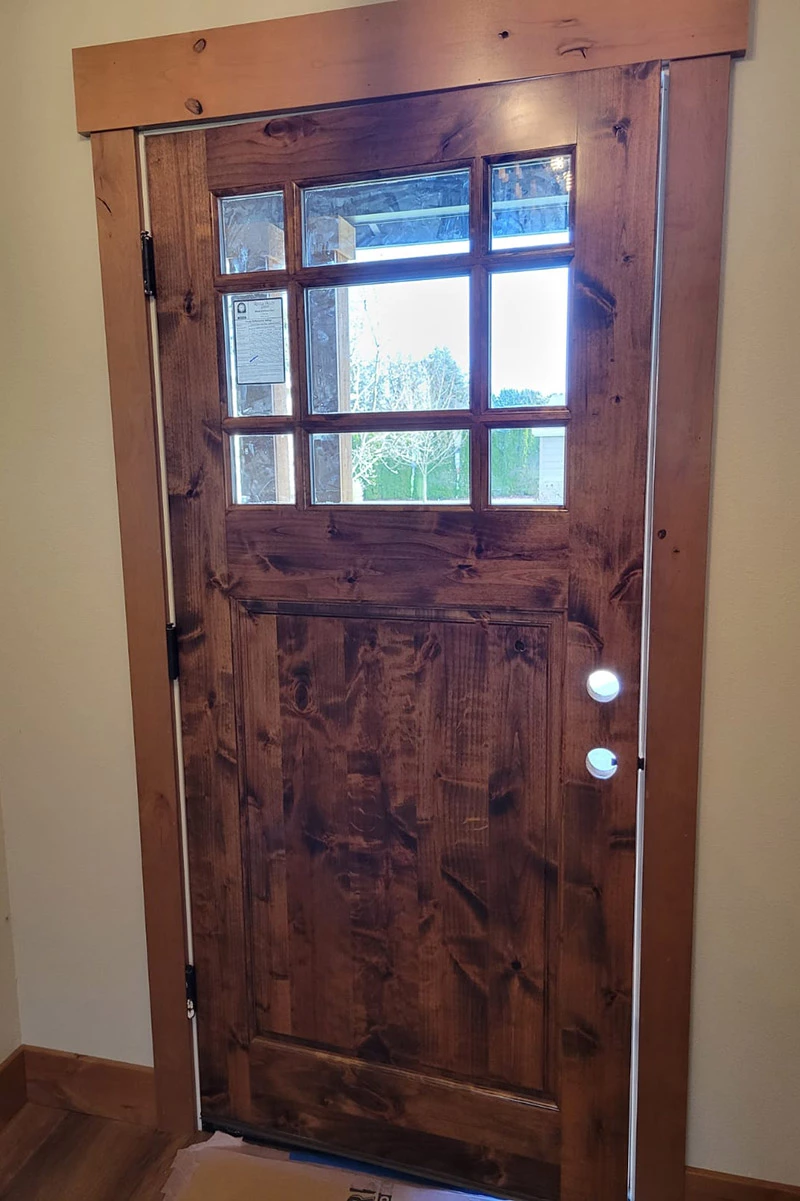 Various stages of the staining process for a door that Sister Siding installed and stained.
Wood Composite
Many prefer wood composite doors these days because they look the same as wood but are easier to maintain. In addition, they also will not warp, rot or discolor ("Composite Doors vs Wooden Doors | Why Composite Doors Are The Right Choice"). Composite doors possess wood cores while the outer layer is a mixture of sturdy synthetic materials, making them durable against the elements. They continue to be a sustainable and popular option for front doors.
Steel
Though not always the most aesthetically pleasing, steel doors are ideal for security and durability. They won't warp and crack and are easy to repair if they get dents. Most steel doors have vinyl or polyester coatings to help with weather resistance as well.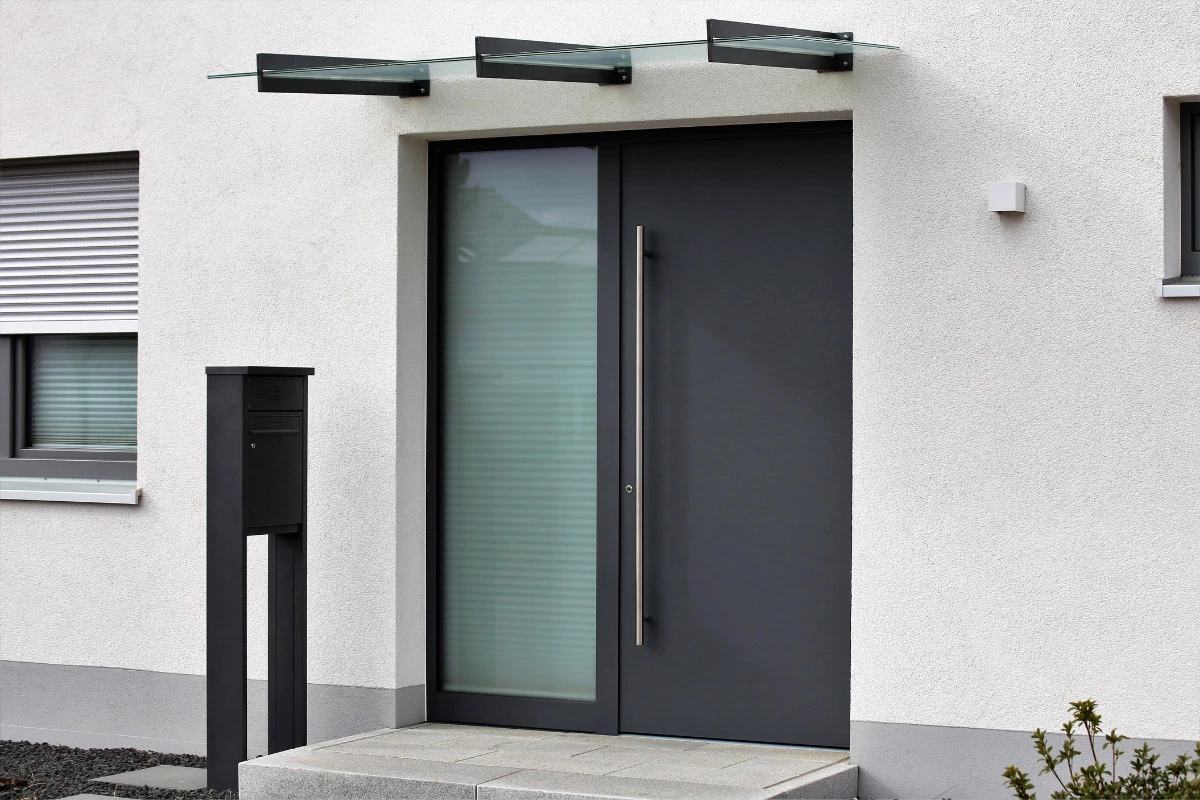 Fiberglass Composite
Another composite option is fiberglass. It can imitate woods like cherry, oak, and pine, but it's easier to maintain. Additionally, it's an affordable option suitable for harsh, humid climates. Fiberglass composite doors have polyurethane foam insulation between their rails making them an extremely energy efficient option ("What Are the Best Energy Efficient Exterior Doors?").
Due to their weather resistance and insulation, wood composite, fiberglass, and steel doors all help lower energy bills. However, fiberglass exterior doors tend to cut energy bills and reduce energy waste ("Thinking of a Fiberglass Entry Door? 10 Pros & Cons to Consider") more than others because they tend to be slightly thicker. So, if energy conservation is your goal, fiberglass is the way to go.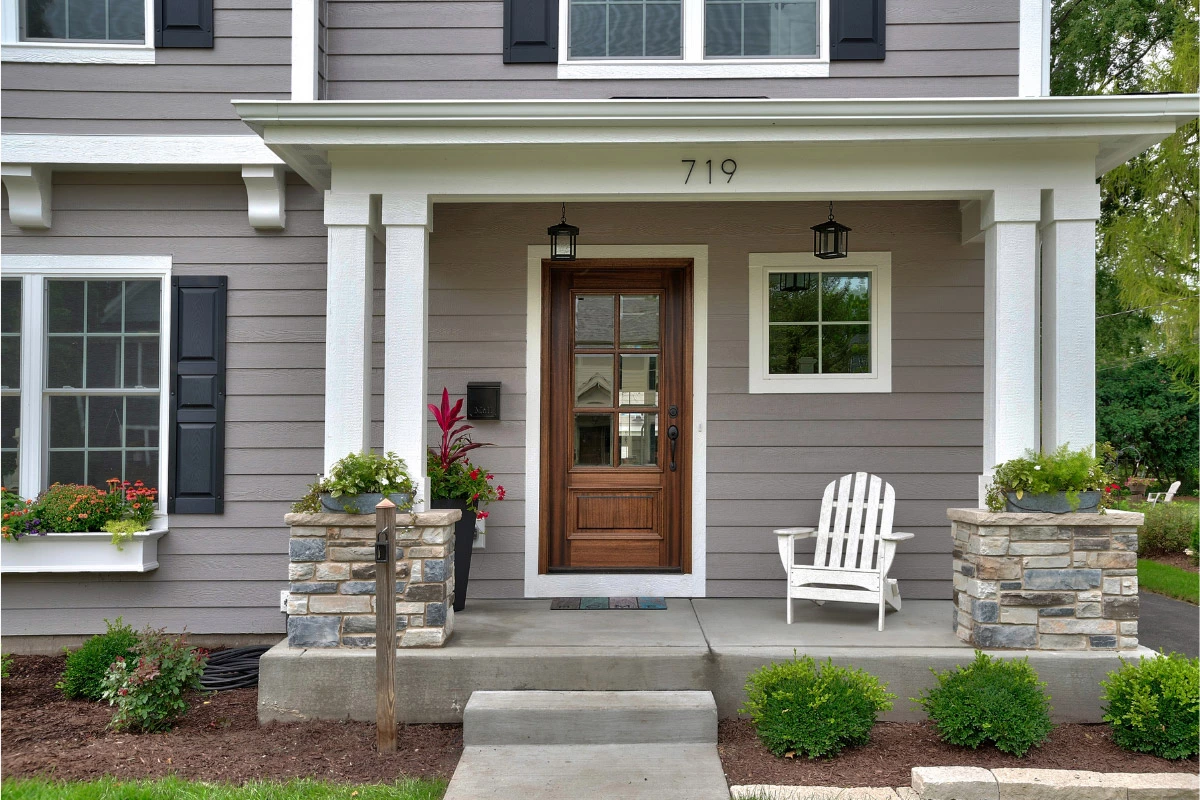 What To Expect During Installation
Typically, experts can remove and dispose of your old door while they install your chosen replacement, and installation usually only takes a day. The nicest thing about a quick installation is that you won't have to worry about having a hole in your home for an extended period of time.
The way professionals install your door will depend on whether it's a pre-hung or slab door. Pre-hung doors come attached to their frames and are easier to install. Your contractor will use caulk and screws to fit them into your home. For slab doors, contractors try a few test fits and trim the door to the correct size before fitting into an existing frame; where the door will be replaced without replacing the frame ("Can You Replace a Door and Keep the Old Frame?").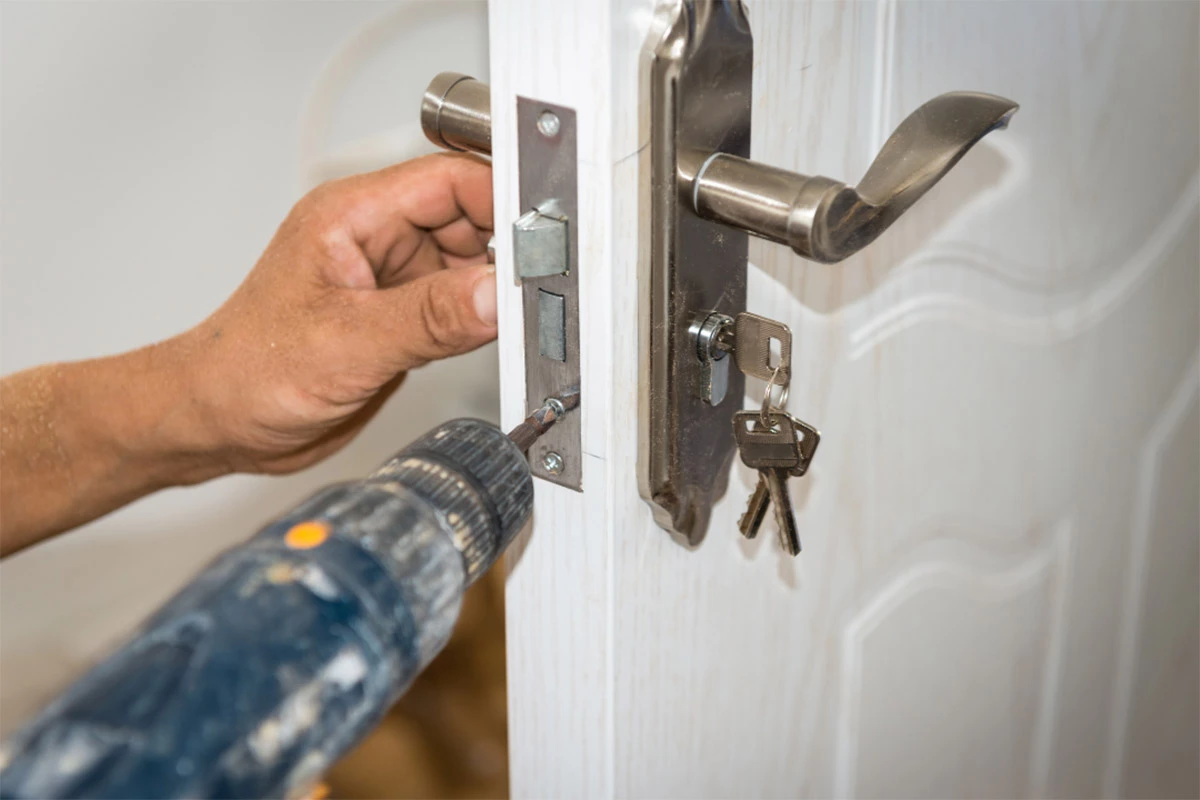 Signs You Should Replace Your Front Door
Spending money on a new front door is an investment. You want to make sure you are not only choosing the right door but also making the decision to install a new one for the right reasons. In summary to the reasons above, you should install a new front door if:
There are gaps between the door and the frame.

There is a gap under the door.

You feel a draft near the door.

The lock doesn't work.

The door is difficult to open or close.

The door is warping
Or, if there is damage to the door such as:
Dents

Rust

Squeaky hinges

Peeling paint

Splitting and cracking wood
If you're experiencing trouble with your doors, you should consult your local contractor. Our professionals at Sister Siding understand the benefits of replacing your home's doors and can answer any question you might have about why damage occurs. We will help you find a beautiful door that is energy-efficient, safe, and matches your home. Contact us for a free consultation and have your old door replaced with a new one that will last for years to come.